Chrissy Teigen is the queen of both Twitter clapbacks and keeping it real — and recently, Teigen got particularly candid when she shared some unedited photo and video of her post-baby bod on Instagram.

Teigen recently gave birth to her and John Legend's second child, Milo, in May. And, while there's a considerable amount of pressure for women (particularly famous women) to "bounce back" after giving birth, Teigen wants to be clear with her followers that trying to achieve the "perfect" post-baby body is totally bonkers, even when you're a celebrity.
Teigen even went so far as to share a super cute photo of her and John (and her mostly-naked post-baby body) on Instagram.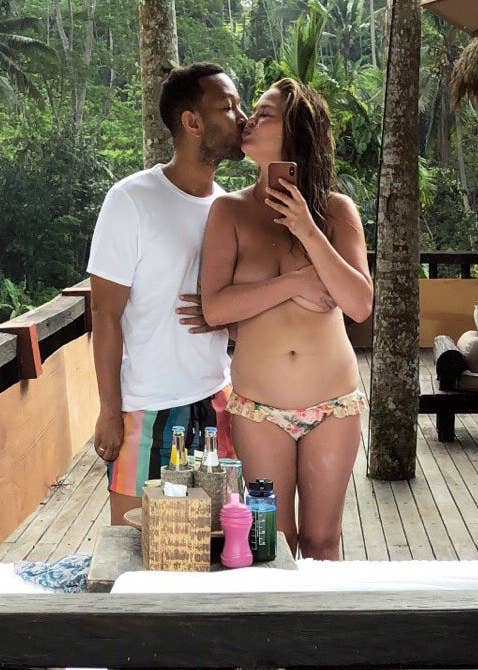 Teigen also included a video clip featuring her stretch marks and cellulite, complete with the caption "Mom bod alert!"
mom bod alert! pic.twitter.com/Qi0BZvLmhV

— christine teigen (@chrissyteigen) July 31, 2018
Teigen later addressed the honest semi-nudes, admitting that she's still not quite "confident" in her post-baby body, but that she's getting there.
Instagram is crazy. I think it's awesome people have killer bodies and are proud to show them off (I really do!!) but I know how hard it can be to forget what (for lack of a better word) regular ol' bodies look like when everyone looks bonkers amazing

— christine teigen (@chrissyteigen) July 31, 2018
also I don't really call this "body confidence" because I'm not quite there yet. I'm still super insecure. I'm just happy that I can make anyone else out there feel better about themselves!

— christine teigen (@chrissyteigen) July 31, 2018
Everyone appreciated Teigen's unedited reveal of the physical manifestations of her motherhood and applauded her for actually showing her cellulite.
it is so fucking cool to see a model post an "imperfect" picture that isn't just like "a model's body with a few barely-visible stretchmarks" or "a model's body after eating a big meal" https://t.co/5j16Tp9yFF

— Chelsea Fagan (@Chelsea_Fagan) July 31, 2018
Honestly, the notion of an ideal post-baby body is just like the notion of an ideal beach body — it's a detrimental concept that doesn't help anybody and only serves to shame the vast majority of people.
Moms are already impressive in their own right for creating human life, so just let them LIVE, okay??