As many fans and followers know, Demi Lovato was hospitalized over the summer for a reported overdose. Following her release from the hospital, the singer and songwriter entered rehab to get better and focus on her overall health. She told fans and loved ones in an Instagram post, that has since been deleted:
I have always been transparent about my journey with addiction. What I've learned is that this illness is not something that disappears or fades with time. It is something I must continue to overcome and have not done yet.

I want to thank God for keeping me alive and well. To my fans, I am forever grateful for all of your love and support throughout this past week and beyond. Your positive thoughts and prayers have helped me navigate through this difficult time.

I want to thank my family, my team, and the staff at Cedars-Sinai who have been by my side this entire time. Without them I wouldn't be here writing this letter to all of you.

I now need time to heal and focus on my sobriety and road to recovery. The love you have all shown me will never be forgotten and I look forward to the day where I can say I came out on the other side.

I will keep fighting
While she was in the hospital and in rehab, some people from Demi's camp and the team had spoken to reporters about the overdose and Demi's state of mind. Obviously, anyone would be unhappy to hear that in a trying time like this, people you thought you could trust were going behind your back making statements. Therefore, she did let people in her life go—including jiu-jitsu trainer Danielle Martin.
After fans online caught wind of the news, they began to call Demi out on social media, criticizing the way in which he's handling her circle post-rehab. One Twitter user said that Demi firing Martin was "unfair" and that she was "the only one who cares about her health." She added that Demi keeps surrounding herself with people who only care about her money.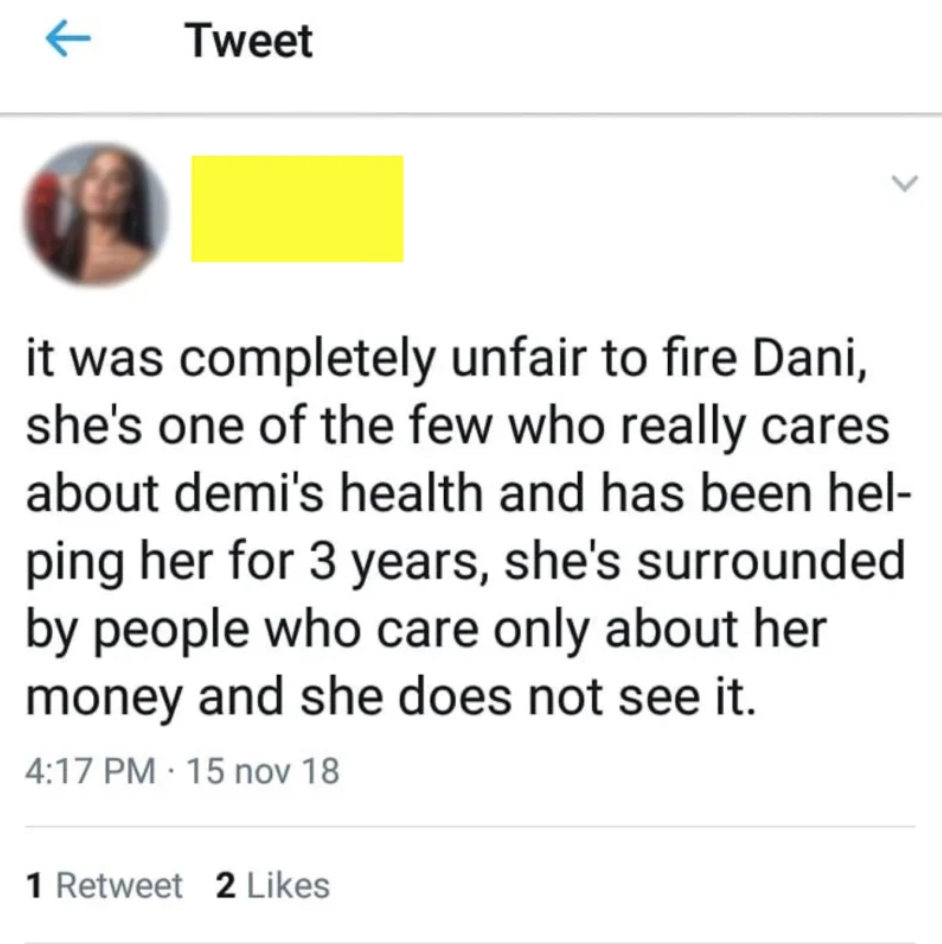 Other people began to comment on Demi's Instagram saying that other people in her team are rotten and she "doesn't realize it." They spoke about specifically about her backup dancers, like Dani Vitale, who gave an interview after her overdose.

Demi decided to not let this slide, and speak to fans directly on her Instagram account who continue to call her out on her decisions she's making about her own life. She directly told commenters and fans that they "had no idea what they're talking about."

She added that "true friends" don't do interviews about you when you overdose—and, let's be honest, this is 100% true.

But, after some people began to assume that it was about Dani Vitale—the backup dancer—Demi cleared the air to make sure people knew she wasn't talking about Vitale.

While Vitale had spoken out about Demi— it was not about anything going on in her life specifically. Instead, Vitale had spoken out against fans who were coming after her for attending a party with Demi the night before her overdose. Someone had posted on social media that Dani was with Demi, and, as the story goes—it blew up out of proportion.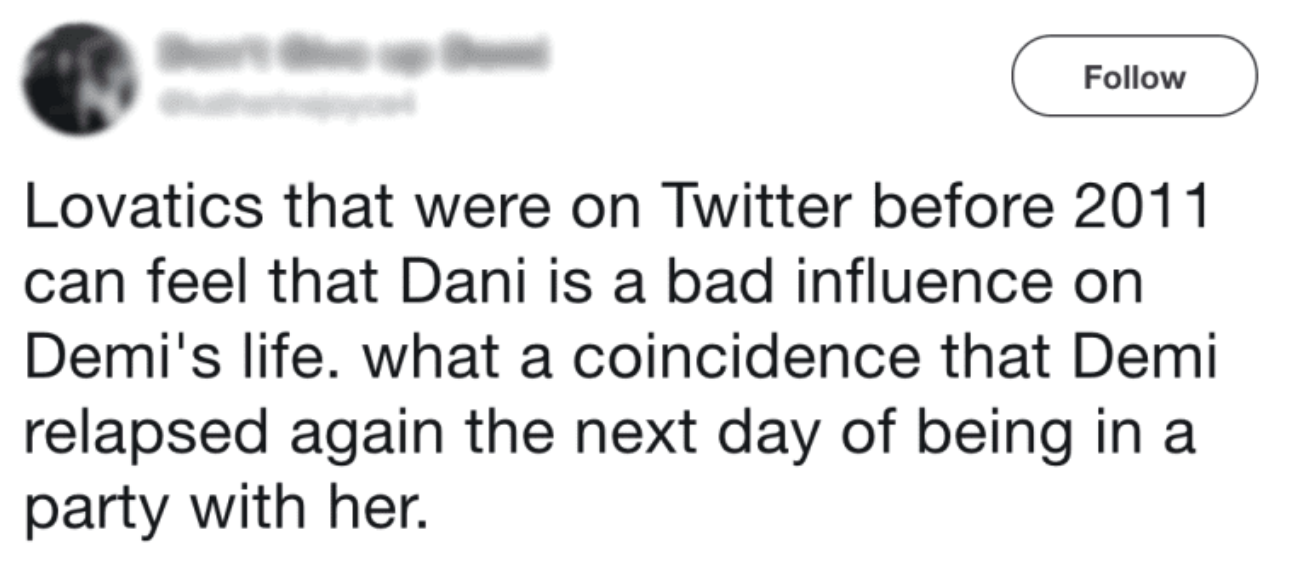 Vitale had spoken out about the rumors that it was her who had pushed Demi to do drugs again, after being in a state of recovery. However, as Demi said, she wasn't talking about Vitale—and, as it turns out Danielle Martin, the trainer, had given a detailed interview to Radar Online just days after Demi's overdose. 
According to the Radar Online interview, Matin had revealed that in the days prior to her overdose, Demi just wasn't herself, saying:
"…something was absent in her spirit."
In all honesty, it's super important to keep your circle small—especially when you're a celebrity. The media and reporters will try and pry stories out of individuals if they are close to celebrities—especially for a big payout. I don't blame Demi for distancing herself from negativity, especially at a time like this.