Italian fashion brand Diesel is under fire for selling a £350 ($460) bomber jacket emblazoned with a "all-over print" of a homophobic slur.
The satin bomber features the word "f****t" on the front pocket and written all over the back. According to the product description, the jacket is part of Diesel's "the more hate you wear, the less you care" Ha(u)te Couture collection, a line of clothing items adorned with offensive terms and slurs apparently meant to encourage consumers to embrace the hate speech against them.
"The more hate you wear, the less you care," reads the product description.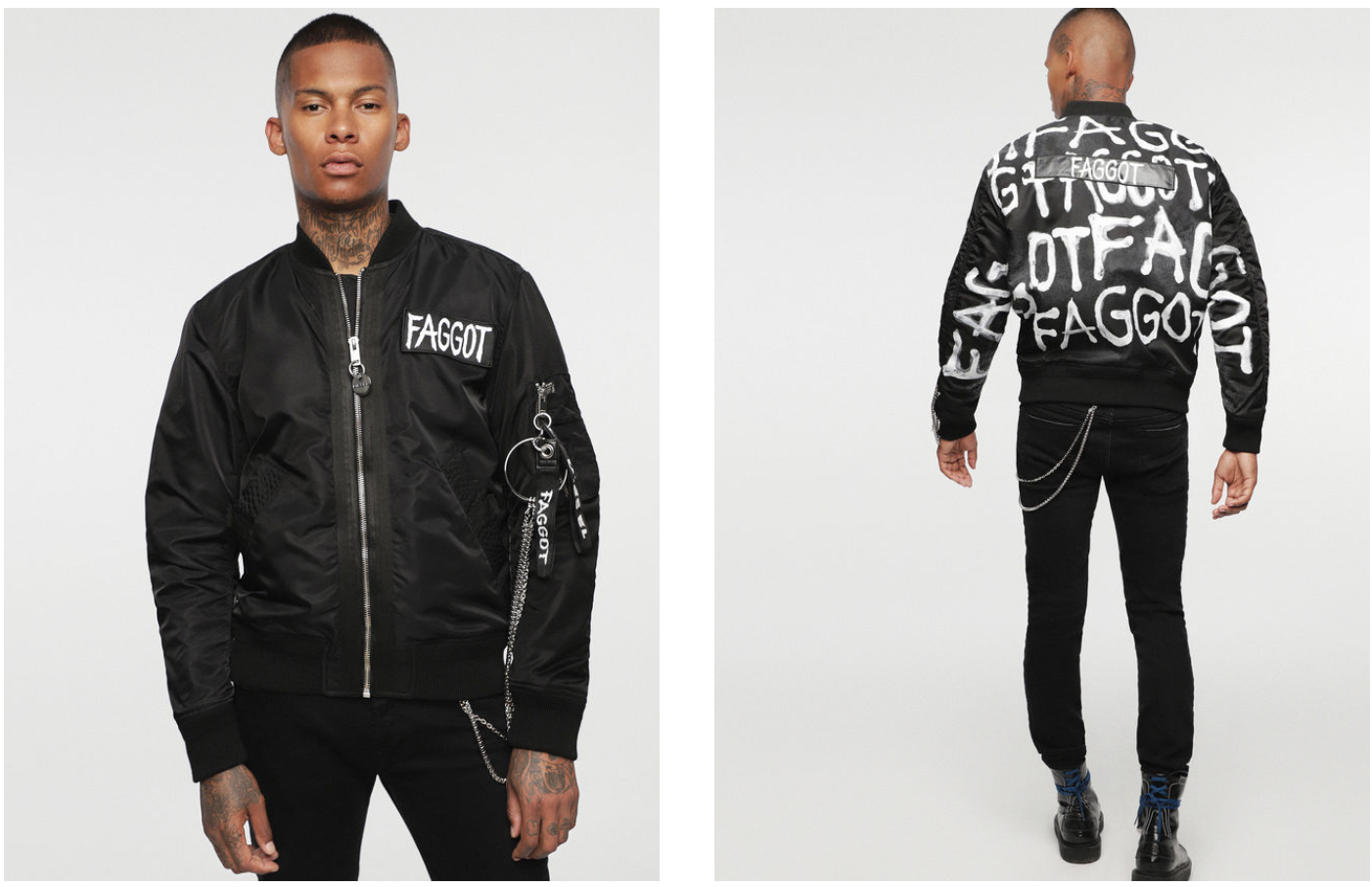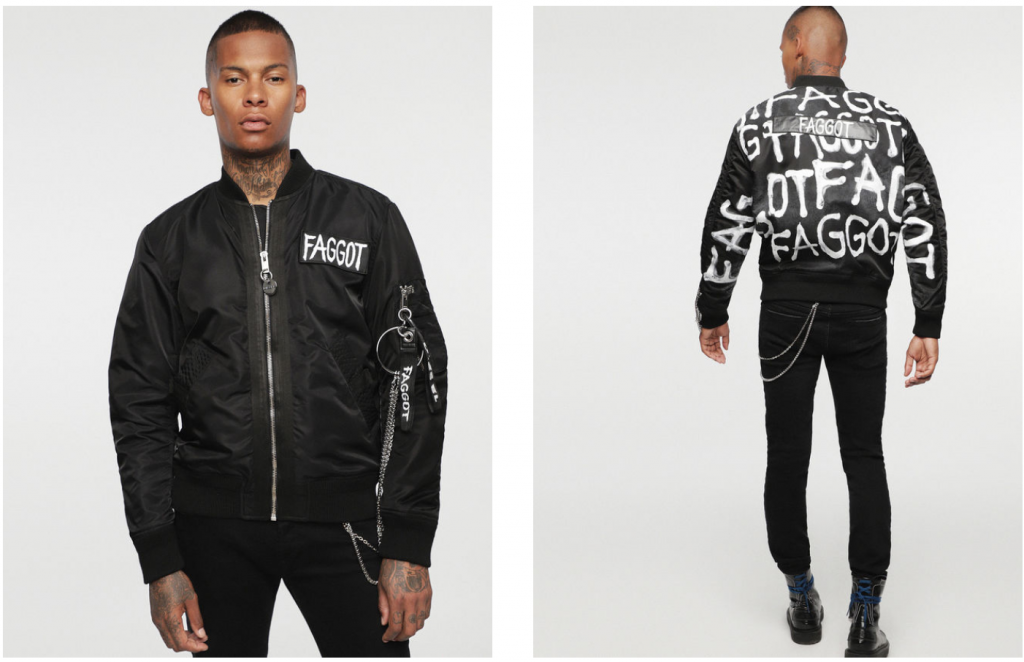 Though the idea behind reclaiming a slur—homophobic, racial, or otherwise—in order to strip it of its power is not a new one, throwing it up on a piece of clothing…oh, wait. That's not new either. Will brands ever learn?
The Haute Couture collection includes jackets that read "imposter" and "not cool," T-shirts proclaiming "slut" and "the bad guy," and, somewhat bafflingly, hoodies that say "Diesel is dead."
The Diesel campaign reads: 'Haters gonna hate? Ok. We got haters. You got haters. Everybody does."
pic
A number of celebrities—including Nicki Minaj, Tommy Dorfman, and Bella Thorne— have helped  promote Diesel's campaign by plucking an offensive word about themselves from a hateful Internet comment.
If this sounds familiar, it's because fashion brand REVOLVE tried to pull a similar stunt a couple of month's ago. (Long story short, celebrities like Lena Dunham and Emily Ratajkowski chose mean Instagram comments to put on hoodies. What REVOLVE ended up selling was a series of hoodies that read "Being fat is not beautiful, it's an excuse," and other such laughable nonsense. They chose super skinny models to show these items off, natch.)
Anyway, it didn't work then, and it certainly did not work now. The Internet ire was sudden.
This is disgusting from @DIESEL. Are offensive words fashion now? #homophobia this can't be allowed pic.twitter.com/29Z6TnNJaU

— Danny (@r2danny2) November 7, 2018
Please tell me this is a joke. I get the message you're trying to convey but as a gay and a long time customer of Diesel, I'm appalled at this! @DIESEL https://t.co/JGx7BsSv5S

— [email protected] (@da_stone) November 7, 2018
Is @DIESEL drunk? I'm no snowflake but this is horrendous. pic.twitter.com/QQVtifO0MU

— NickHorbowyj (@NickHorbowyj) November 7, 2018
Imagine the arrogance of a fashion brand that thinks it can change the meaning of a hate word that is still used against the LGBT+ community without their permission https://t.co/mVBrEHrrG3

— Poorna Bell (@poornabell) November 7, 2018
What the flying fricken hell is this????? I have the strongest hate for this word and the way it's thrown around like it's nothing, and they've just gone and put it all over a jacket. It isn't a positive word that should be plastered all over a jacket. Bold move diesel bold move.

— Char ✨ (@charbirtlesx) November 7, 2018
Matt Bagwell, an editor at HuffPost UK pointed out that it wasn't for Diesel to reclaim the homophobic slur on behalf of the LGBTQ community.
Seriously? I don't need to waste £350 to increase my risk of getting queer bashed, thanks @DIESEL. People experience that for free every single day. Also, did I miss the memo about the gays reclaiming that word? No, I did not. https://t.co/NbU72ZgYna

— Matt Bagwell (@BaggersBites) November 7, 2018
What makes this launch worse is the fact that Diesel announced the campaign back in September, faced an onslaught of social media backlash, and then proceeded with it regardless. When the overarching sentiments towards the "f****t" jacket was "gross, please, no," Diesel responded by tweeting, "It's worth repeating: you don't make online hate disappear by hiding it."
It's worth repeating: you don't make online hate disappear by hiding it. Share your stories of online hate. It's time to take the hurt out of hate. #DieselHateCouture

— Diesel (@DIESEL) October 10, 2018
Bruno Bertelli, the creative officer in charge of the campaign explained at the time, "The main thing is not to hide. Hate comments are based on the fact that people are hiding themselves. If you keep [hate] inside, it grows and hurts and becomes bigger and bigger."
I mean, yeah, sure. But for a multi-million dollar fashion brand to capitalize off of homosexuals, specifically (notice how other super derogatory slurs are absent?) seems to miss the mark.