For those who don't know, John Stamos–the adorable and charismatic man behind our beloved Uncle Jesse–recently became a father for the first time at the ripe age of 54-years-old.

While Stamos' wife Caitlin McHugh is only 32-years-old, the two had to go a different route when trying to conceive–including some testing. Stamos recently told the story of how their adorable son was brought into the world–and, it took a turn for the awkward/cringeworthy when he got into the nitty-gritty details.
Stamos appeared on Busy Tonight and, discussed what it's like to have to provide a sperm sample at the doctor's office. While TV shows/movies try to show you how awkward and strange it can be, nothing is worse than truly having to do it in person–especially when there's a TV in the room playing a very, very specific show.
Stamos revealed that when he was in the room giving his "sample," he turned the TV on for some inspo. and what was on? Oh, just Fuller House–no big deal at all, right? Wrong.
Imagine how awkward it must be to have to get "in the mood" and see your face right in front of you? Talk about cringeworthy. But, don't worry, Stamos was a good sport about it–he said he would much rather milk it to his '90s self, rather than his 2018 self.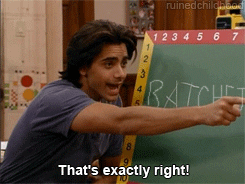 I mean…same.