When you think of your childhood, chances are peanut butter and jelly sandwiches were a staple of growing up (unless, of course, you have a peanut allergy).

There are a number of ways to make a regular, old-fashion PB&J that much better–like, by using different jelly's and jams or even incorporating chunky peanut butter and such. But, to make it worse? Well, it seems as though you're ruining a perfectly good snack if you ask me. And, that's exactly what someone decided to do when they combined hot dogs and peanut butter and jelly. Cue the vomit GIF.
At the Mount Airy Casino Resort in Mount Pocono, Pennsylvania, you can score yourself this disgusting snack, if you're into it, for just $5. All you have to do is go to the Golf Clubhouse and ask for their secret menu.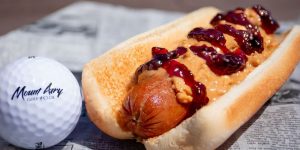 Or, if you're not trying to go on an entire vacation to try a probably gag-worthy lunch, you can make it at your house and never talk to me again.
Don't worry–these people have already gone through the trouble of trying it.
On this.. #NationalHotDogDay… never forget… I declare that peanut butter is a totally acceptable condiment to put on your hot dog. pic.twitter.com/mr6ltSQRJq

— Tim Williams (@realtimwilliams) July 19, 2017
This guy took it way too far.
Peanut butter and jelly hotdog for all my fellow enthusiasts. With cream cheese and bacon, of course. pic.twitter.com/x5vI2ETRLS

— Zack Davisson, Mango Translator (@ZackDavisson) July 4, 2018
Someone stop this madness.
Only at the CNE can u get a bacon wrapped hotdog with peanut butter, jelly, and captn crunch on it pic.twitter.com/hnF0Z2rdaq

— Josh (@joshoulton) September 1, 2016
Nah.
PEANUT BUTTER JELLY ON A HOT DOG COVERED WITH CAP'N CRUNCH. DAMN RIGHT I ATE IT #TubbyDog pic.twitter.com/DDR7NYm5t0

— Lucahjin@ConBravo (@lucahjin) November 4, 2014
Sis, don't.
I thought of my worst food combination yet, a Peanut Butter & Jelly Hot Dog. I need to try it, just to say I did.

— AGENTSPITS (@AGENTSPITS) April 19, 2010
I'm giving up on everyone. The only things that belong on hot dogs are ketchup, mustard, relish, sauerkraut, or potato salad. There, I said it.