Victoria's Secret yearly fashion show is the most-watched fashion event of the year (800 million annual viewers! I didn't know either!), and 2018 was no exception. This year's $12 million event is notable for several reasons:
First, it was Adriana Lima's final year participating, which was emotional for the model's many stans. Also, models Candice Swanepoel and Behati Prinsloo debuted their baby bods, which looked exactly like every other woman's body after giving birth (ha ha ha ha ha ha). Number three, Dylan Sprouse (who?) bought his girlfriend Barbara Palvin (who?) some Shake Shack, which people thought was really cute or whatever.
Then there was a bunch of people pissed off about the "nepotism gang," or, more precisely, Kendall Jenner and the Hadid sisters, Gigi and Bella. But mostly Kendall, and mostly because this crew got way better outfits than models people deemed more deserving.
Personally, I don't see a problem with Bella's walk.
Bella Hadid's is hot and but like her walk sucks just like Gigi's

— Pris??‍♀️ (@melodramasott) November 9, 2018
this is how you walk the vsfs sweetie @KendallJenner pic.twitter.com/On1gc7bj8J

— ash (@Iiveonkiss) November 8, 2018
Objectively speaking, Kendall's strut pales in comparison to the other models. The incredibly well-paid Angel looks low-energy and bored.
I need to know what this is because I know they didn't just let her walk like this on the #VSFS18 runway pic.twitter.com/VnDHEHXMnT

— beto o'rourke stan (@nicolotweets) November 8, 2018
Getting little bit sick that Victoria secret gave Kendall Jenner a fancy outfit and wings. Barbara Palvin deserves better, literally looks like they grabbed her outfit from primark and let her walk at least she still stole the show no matter what ??#BarbaraPalvinInVSFS18 pic.twitter.com/QNkDlubxAr

— ʀᴇʙᴇᴋᴀʜ ? (@becac17) November 9, 2018
Much of the controversy surrounding the nepotism gang has to do with the fact that "you don't make a lot of money doing Fashion Week unless you're famous," as one model told the New York Post, and the Jenners/Hadids are super famous.
In fact, the modeling community will have us believe most models dislike Kendall Jenner for making exponentially more money while putting in less work and effort. (Their righteous vitriol undoubtedly has something to do with Jenner's dismissive quote of the industry in a recent interview: "Since the beginning, we've been super selective about what shows I would do. I was never one of those girls who would do like 30 shows a season or whatever the f*ck those girls do.")
So people are calling the nepotism gang out.
BARBARA PALVIN HAS A KILLER BODY AND AN EVEN KILLER WALK AND VS MADE HER WALK IN LEGGINGS? AND THEY GAVE KENDALL JENNER ONE OF THE BEST OUTFITS OF THE NIGHT EVEN WHEN SHE DISRESPECTED THE ENTIRE MODELLING INDUSTRY AND CANT EVEN WALK? I'm done. #VSFashionShow pic.twitter.com/K2BYl1Y2cg

— s (@desibxtch) November 9, 2018
KENDALL JENNER MAKES MY BLOOD BOIL SHE'S GOT EVERYTHING HANDED TO HER BC SHE'S A FUCKING KARDASHIAN IM SORRY I CURSED BUT I CANT STAND THAT WOMAN & YET THEY LET BARBRA PALVIN WALK IN FUCKING LEGGINGS & GAVE KENDALL JENNER SOMETHING BETTER ARE YOU FUCKING KIDDING ME LIKE NO

— ✨ ɥɐuuɐɥ ✨ (@17blackmgc) November 9, 2018
She's pretty but she has no stage presence! Victoria's Secret used to have so many models with fierce catwalks.

— KC Rane (@kc_rane) November 8, 2018
VS gave a plain outfit for a veteran angel Behati and she rocked it. They gave Kendall a very good one but uhhmmm?? Nevermind! ? Nice choices VS. ✌?

— Rob Donesa (@robidonesa) November 8, 2018
She looks with 0 energy but who cares about talent when you are pretty and Kim Kardashian's is your sister?!??❤️ joke

— SHAWN WALLPAPERS???? (@sm__wallpapers) November 8, 2018
This is why I can't watch this show anymore. Her walk is atrocious and she has no presence. VS has been going down for a while and now that Adriana is leaving, it will go down even more.

— Margarita Hernandez (@Mhernandez287) November 9, 2018
Fans also took to Instagram to voice their opinions after the official VS Instagram posted a picture of the supermodels.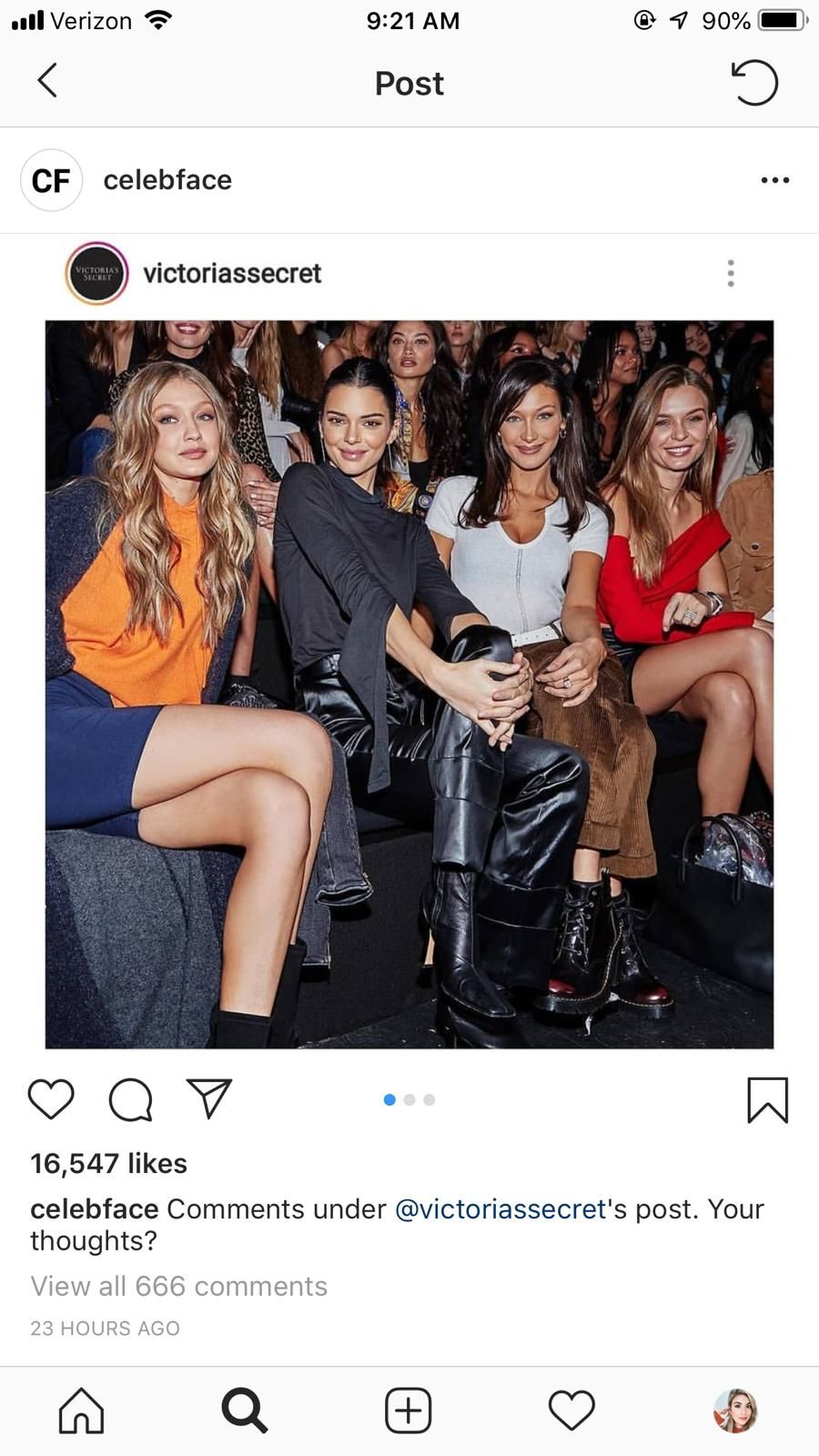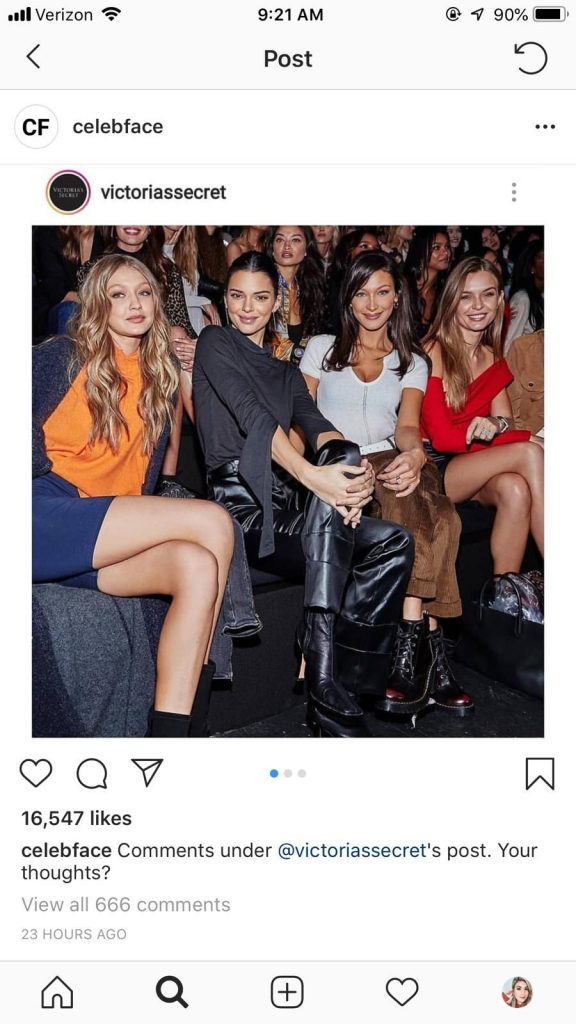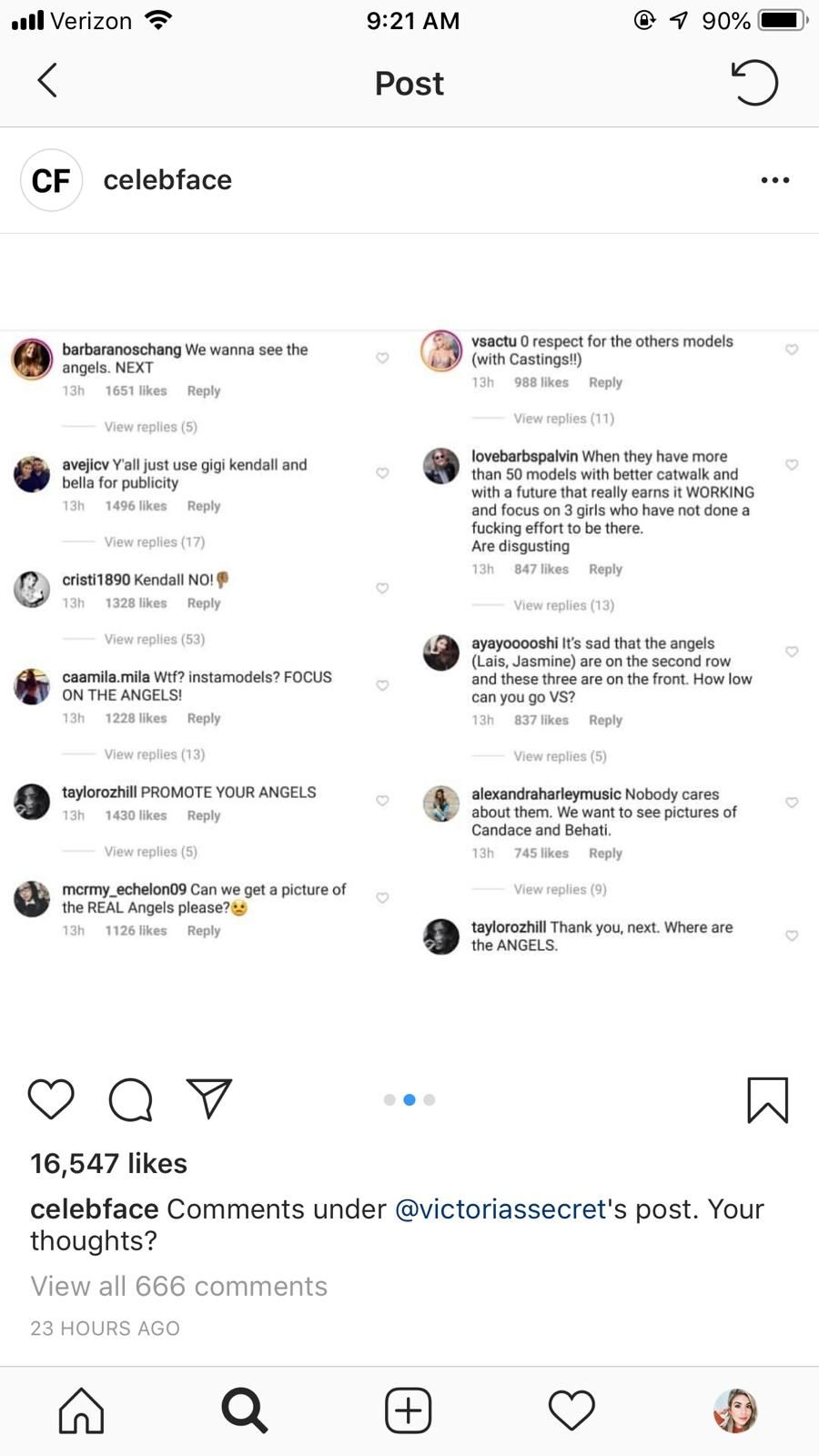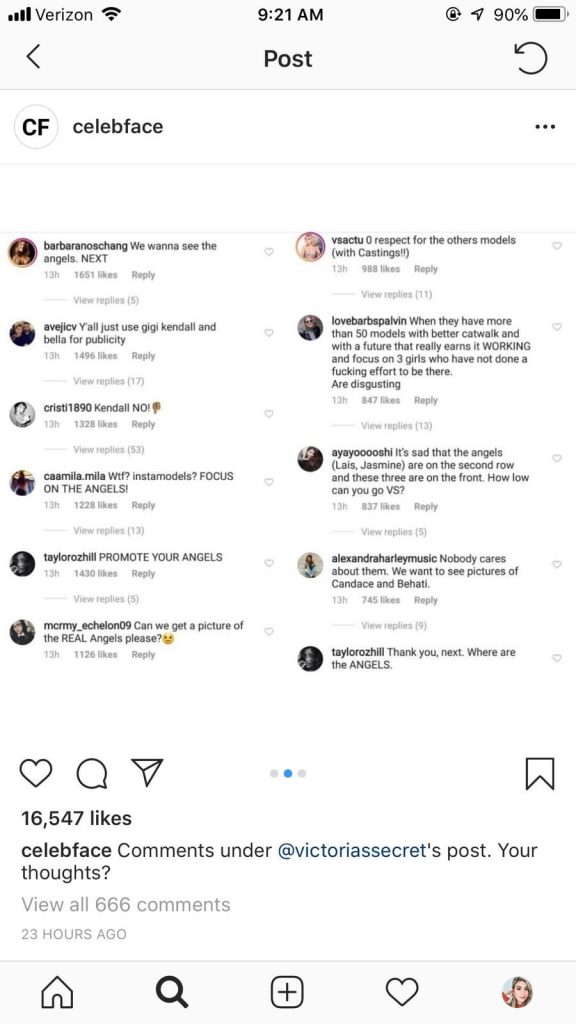 "Promote your Angels" seemed to be the common theme among the comments.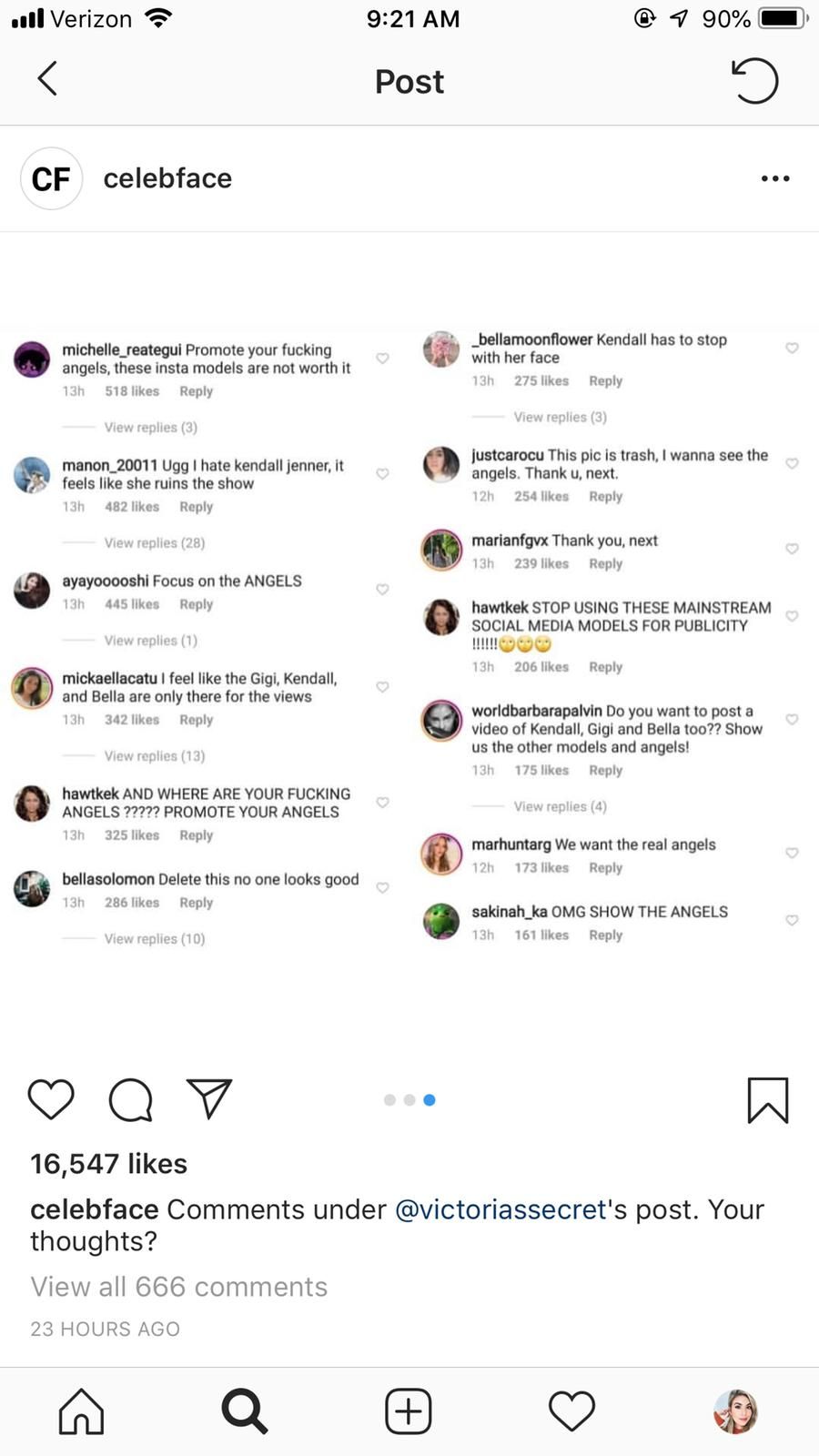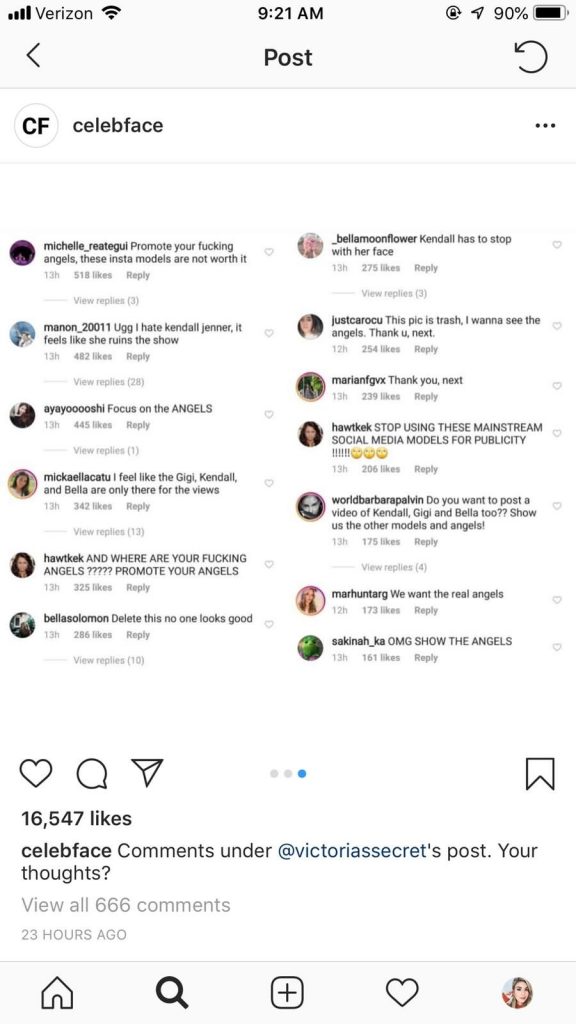 The full 2018 Victoria's Secret show will air on ABC on December 2nd.