When it comes to social media models, everyone is always wondering how to get their stunning body.

While many are blessed with some good genes, others put a lot of hard work and dedication into getting that "Insta-worthy" body. For Instagram model Sommer Ray–who has over 18 million followers and is best known for her perfect behind–a lot of hard work goes into it. Both of her parents were bodybuilders and fitness junkies–so working out was something that was instilled in her from a young age.
Ray told Cosmopolitan.com that although she's pretty famous online for her bangin' body–she was "slut-shamed" so badly in high school that she dropped out and decided to be homeschooled instead.
"I was slut-shamed in a way — everyone from my hometown judged me. They didn't understand when I posted pictures of my ass on Instagram, it was because I'd worked hard for it. It's not a sexualized thing."
And, Ray did work hard. In fact, she entered her first bodybuilding show when she was only 16-years-old, taking after her father. She competed for years in bodybuilding competitions but eventually stopped because of the abundance of steroids that many girls were on–not wanting to do that to her body.
Ray moved on to using Instagram as a platform for revenue after she gained some popularity thanks to WorldStar. Many people flocked to her page because, as Ray says, she's 100% real and authentic.
There's so much fake fitness on the Internet. I was just a breath of fresh air — all the way natural without fake boobs or a fake butt. People like authenticity. They caught on to what was doing and liked it."
The question on everyone's mind? How does Ray get her booty to look like that naturally? I mean, a girl needs some solid advice–no matter how many squats I'm doing in the gym per day, my backside is nowhere near as perfect.
Ray's Workout Routine:
Ray begins her workout with some cardio–but not just any cardio. Stair climbing targets your glutes and your legs, which will perk up that behind in no time. Alternating between normal climbing and skipping steps gives you more of a reach to stretch those legs out and build a solid foundation for your new asset.
She then uses several machines in different and unique ways in order to build her best behind. She uses several machines that can be found in any gym–such as the leg press, adductor and abductor machines, cables machines, and squat racks.
While all of these machines are nothing new to those working on their booty, Ray also uses typical machines in unique ways in order to target her behind. For example, instead of using the hamstring curl for her legs, she also uses it for her glutes.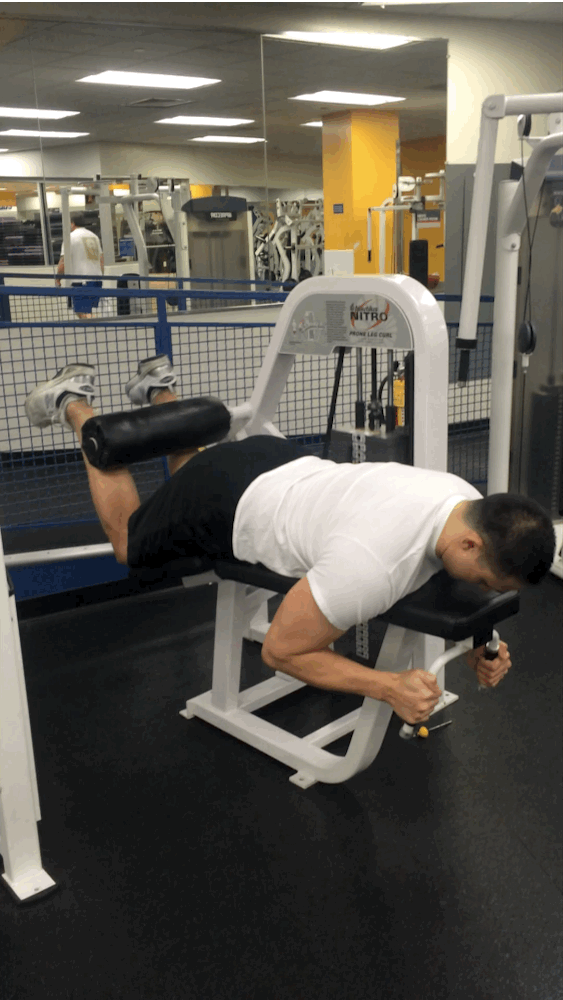 Instead of laying face down and using her hamstrings to lift the bar, Ray lays face forward with her back on the pad, her feet on the ground, and the bar up against her hips. This way, she uses her hamstrings, butt, and hips to bring the bar up until she has her body at a completely straight line.
According to the fitness model:
"If you do any exercise right, with the right form, you learn to isolate your muscles."
If you do enough research online, you can find exercises that best work for the muscles you're looking to target–especially your backside.
Your diet matters:
Ray packs in a lot of protein a day–70 grams to be exact–in order to maintain her glute mass. She starts her mornings off with a protein shake, and continuously snacks/eats six small meals for the remainder of the day. She likes to meal plan but also eats out frequently. She gets her carbs from "starchy" foods, but, also maintains her protein wherever she goes–even if it's In-and-Out Burger. While she'll grab herself a burger, she'll do without the bun.
Ray claims that all women should feel comfortable to eat what they want and enjoy their life, while also maintaining a healthy lifestyle.
"If I want a slice of pizza, I have a slice of pizza. I want to look good, but I also want to enjoy life.
Ray also has a brand new fitness app–Evolve– which can help you get in your best shape yet.
But, at the end of the day–while Ray shares her workouts to inspire women to get their best booty–she doesn't want them to think they have to look like her.
"I don't want to motivate women to look like me. I want them to love themselves the way I do. Society puts on pressure to look and be a certain way — you're your best when you are confident in yourself."