A problematic trend has arisen on social media over the last couple of years: white "influencers" trying to pass as black women.
Earlier this week, @WannasWorld launched a Twitter thread unmasking "all of the white girls cosplaying as black women on Instagram." The Toronto-based writer wrote, "Let's air them out because this is ALARMING."
Can we start a thread and post all of the white girls cosplaying as black women on Instagram? Let's air them out because this is ALARMING.

— Wanna (@WannasWorld) November 7, 2018
What ensued was hundreds of responses sharing photos and accounts of white Instagram influencers who mimic African-American skin color, facial features, braided hair, etc., and who in return receive thousands of Instagram "likes" and heart-eye Emoji comments.
Many of the photos are side-by-side comparisons. On the left, the "influencer" as a young, natural, pale-skinned, straight-haired white girl. On the right, the same girl, though you'd never be able to tell; the combination of fanatic tanning, dark-hued foundation and powder, photo editing, plastic surgery, and a traditionally African-American hairstyle (cornrows, afros, dreadlocks, etc.), presents a woman who truly does appear to be (at least partly) black.
I literally thought this girl I was following was some light skin black girl but turns out… pic.twitter.com/7oX3luc8Cy

— Kitcha Fit-Fit Stan (@ERlTREAN) November 7, 2018
Wanna explained how the following tweet by @yeahboutella drew her attention to this disquieting Instagram trend.
This tweet from @yeahboutella started this discussion. I'm truly disgusted. https://t.co/mZF7nNnAxX

— Wanna (@WannasWorld) November 7, 2018
She specially called out a 19-year-old Swedish model/influencer named Emma Halberg, who has nearly 180,000 Instagram followers.
I was niggerboozled pic.twitter.com/2vQI0so3jG

— dee?? (@yeahboutella) November 6, 2018
Though Halberg appears to be African-American in many of her photos, she is actually a white woman who had previously been tagged in pictures where her skin appeared white and her hair straight.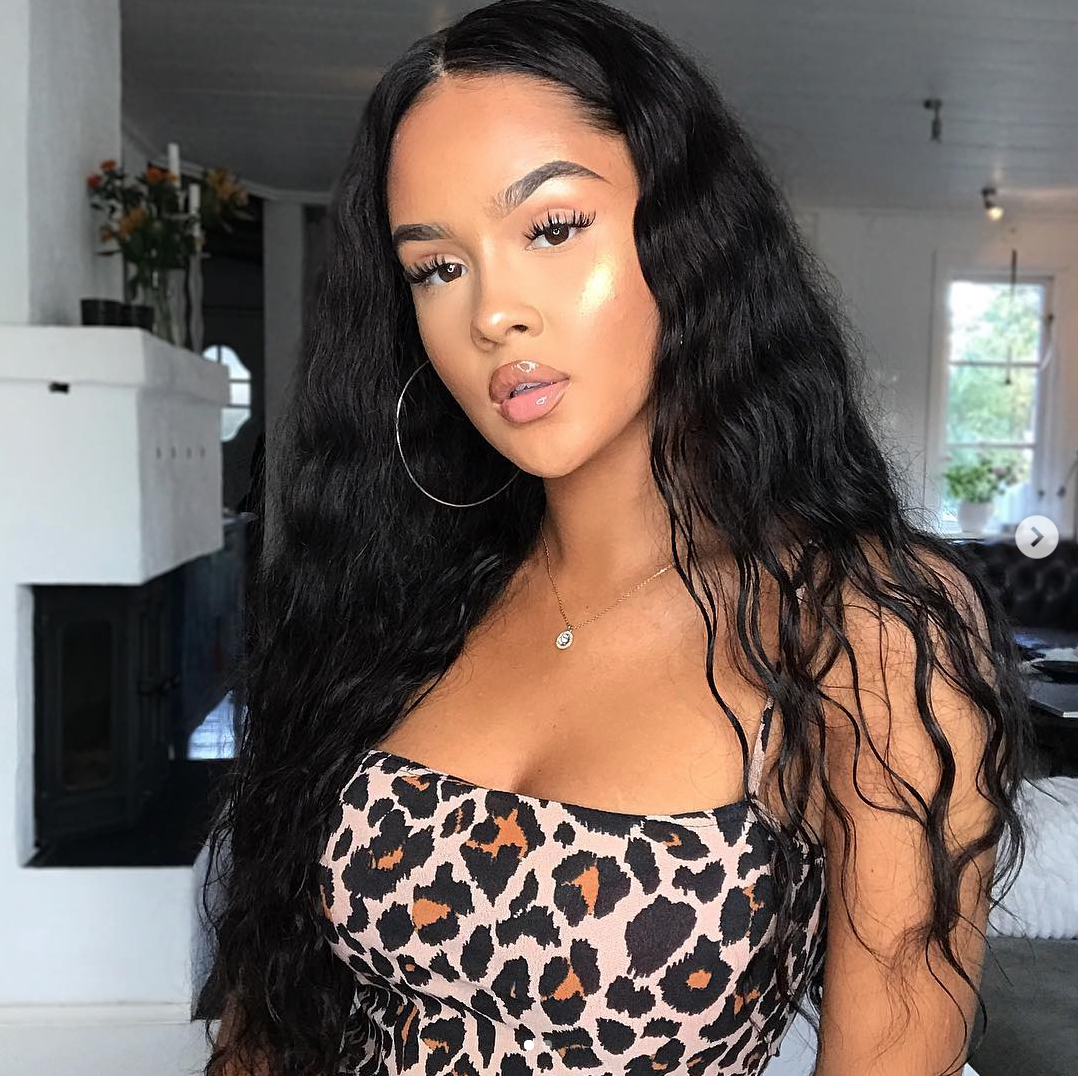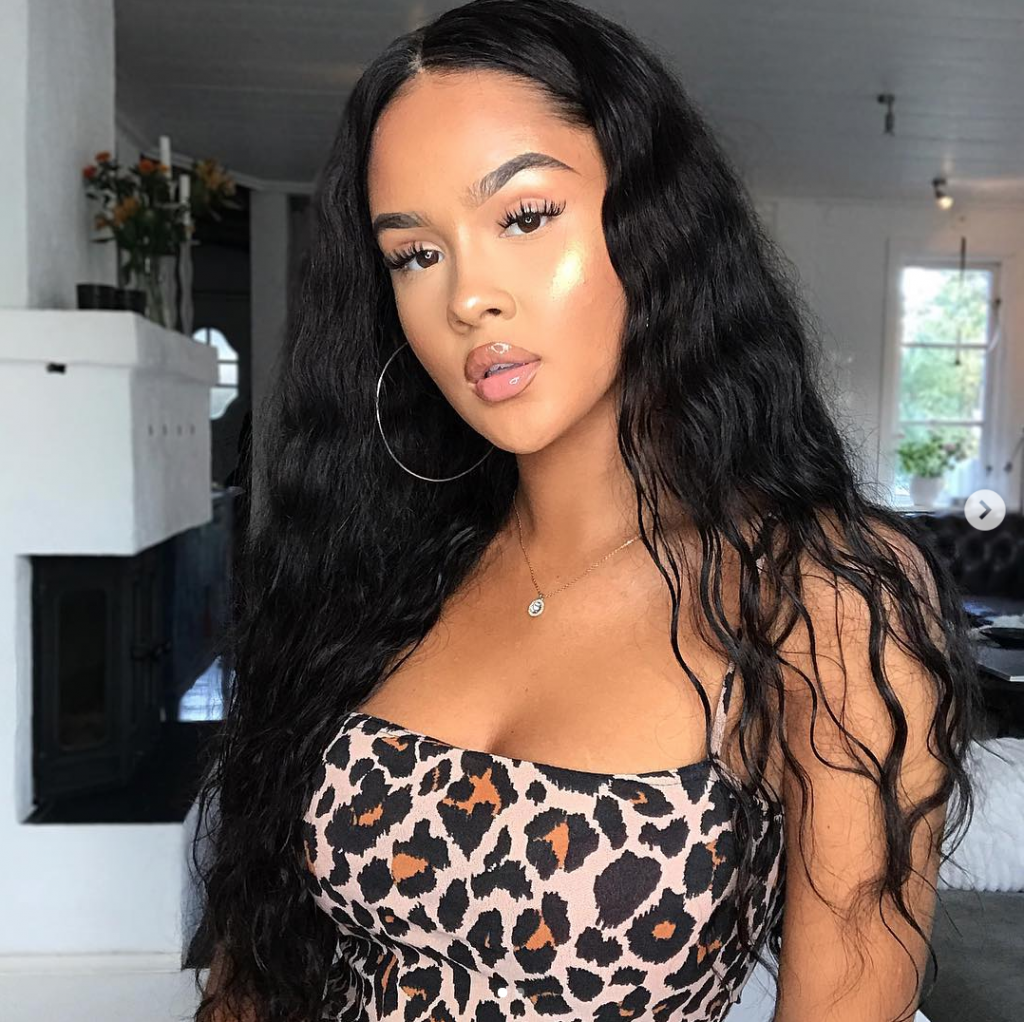 In a screenshot from one of her Instagram stories, Halberg admits her hair is curly because she sleeps with it braided.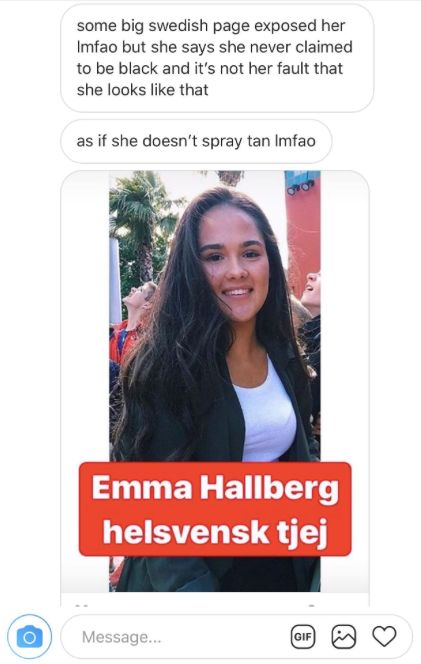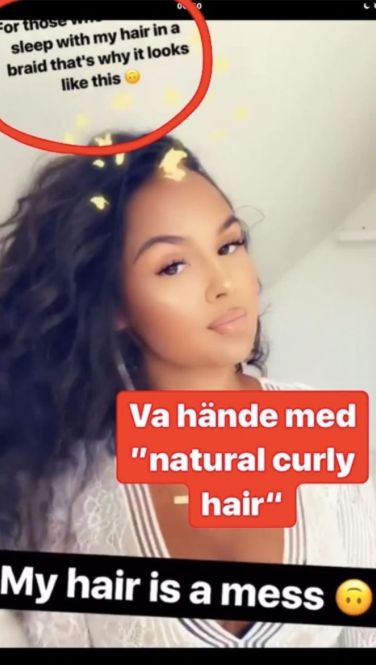 Halberg wrote in a DM posted by @fratis_first that she is white and "never claimed to be anything else." She explained that her skin tone is so dark because she gets "very tanned NATURALLY" and that she "was born with naturally curly hair."
You heard it here first pic.twitter.com/7ydeSABzpD

— Angelica Fratis II (@fratis_first) November 7, 2018
The Swedish teen is far from the only white woman posing as black on social media. A couple of days ago, another Twitter thread aimed at exposing such influencers began to go viral.
Thread of white people posing as black people on social media:

— yall fake niggers are going to JAIL!!!!!! (@niggerfished) November 7, 2018
You can check out the entire thread here, but suffice it to say: …wow. Many conversations sprung up on Twitter surrounding the question of whether these women are in blackface. On the one hand, they are undoubtedly white people making themselves look black. On the other, it isn't in order to mock or tease—though that does not make it any more appropriate.
An enormous amount of people did not see the problem, writing that over-tanning and changing hairstyles does not necessarily mean someone is posing as black. Comments asserting OP's were "reaching" and "let people do whatever they want" abounded.
In an enlightening and beautifully-written blog post, Wanna explained why it is so harmful and problematic for these white influencers to pose as black:
"The ghetto has been commodified for the viewing pleasure of individuals who mock, laugh then copy the hood 'aesthetic' without a single contribution back to the people or places that have inspired them. The hood's influence is displayed in various fashion collections and Instagram profiles that resemble the women who are consistently labelled unkempt and uncouth."
In other words, white people are profiting off of black people without actually improving the lives of black people—all while societally denigrating them for the very aesthetic they are stealing.