Sadly, it is not uncommon in sexual assault cases for people to blame the victim for their own assault. No matter how ignorant and disgusting the rest of the population may find it, victim blaming happens all too often. Sometimes people even have the audacity to use a survivor's clothing as a justification for assault, "look what they were wearing, they're asking for it." It's absolutely disgusting, but it still happens today. In fact, a defense attorney in Ireland recently cited a teen victim's underwear in court during a rape trial and women everywhere are protesting on her behalf.
A 27-year-old man was acquitted of raping a 17-year-old woman earlier this month.
According to the Irish Examiner, the incident took place in Cork and the defendant was found not guilty after less than two hours of deliberation.
During the trial, defense attorney Elizabeth O'Connell held up a pair of the 17-year-old's underwear in court and cited them as evidence of the victim's consent.
"Does the evidence out-rule the possibility that she was attracted to the defendant and was open to meeting someone and being with someone? You have to look at the way she was dressed. She was wearing a thong with a lace front." O'Connell said.
The defense attorney's comments provoked international criticism. The Dublin Rape Crisis Centre also called for necessary legal reforms, though they did not argue the case's verdict.
"These kind of mythologies and stereotypes around rape come up again and again in court cases, because the defence to rape is that the sex was consensual," Rape Crisis chief executive Noeline Blackwell told the Irish Independent newspaper. "So anything the defendant can do to suggest there was consent will be used."
On Wednesday, women around the country gathered to protest the outrageous handling of the court case.
Crowd is chanting that 'clothes are not #consent': the sense of solidarity, belief and conviction for change is palpable. #ThisIsNotConsent pic.twitter.com/HFNs1C3c2V

— It Stops Now (@ItStopsNow_EU) November 14, 2018
Hundreds march through #Cork city to the courthouse where a 17-year old's underwear was used by the defence barrister when addressing the jury in a rape trial #thisisnotconsent pic.twitter.com/4yqGcW6XPG

— Fiona Corcoran (@fiona96fmnews) November 14, 2018
Thongs are being hung up outside the Spire in Dublin as part of the protest calling for an overhaul in the way rape trials are conducted #rape #consent #rosa pic.twitter.com/zGfl7HFNrW

— Stephanie Rohan (@StephGrogan3) November 14, 2018
Some of the signs from today's march against rape culture in Cork……@RosaWomen #Cork pic.twitter.com/UtiGe8GxcM

— Anna Heverin (@annaheverin) November 14, 2018
It wasn't long before the protests inspired an online movement surrounding the hashtag #ThisIsNotConsent. The campaign was kickstarted by the group I Believe Her, whose own hashtag went global earlier this year after two rugby players were aquitted of rape.
In the days following the controversial trial, women started tweeting pictures of their underwear to support the teen victim while also combating the ignorant and problematic attitudes about consent that still exist around the world.
Lacy but full or thong but not lacy,
need someone to tell me which is less rapey… #ThisIsNotConsent pic.twitter.com/jiA61qF7gB

— maireos (@maireos) November 13, 2018
Just beacuse my panties are cute doesn't mean i'm saying yes #ThisIsNotConsent pic.twitter.com/rakf2HXQNv

— Emily (@lilthumper408) November 13, 2018
Several women also shared this illustration of a thong with the words "This is not consent".
Thongs DO NOT cause rape.
Short skirts DO NOT cause rape.
RAPISTS cause rape! #ThisIsNotConsent pic.twitter.com/4PbAR2hIDh

— Cllr Sharon Tolan (@sharontolan) November 13, 2018
Other women expressed their outrage by pointing out the horrifying flaws in Ireland's justice system.
A non-comprehensive list of things you can use to defend rape or avoid jail time for rape in Ireland:

Drinking alcohol.
Saying you feel sorry.
What someone else was wearing under their clothes.
If you're old.
If you come from a 'good' family.#RapeCulture #victimblaming

— Taryn De Vere (@TarynDeVere) November 13, 2018
I'm sitting in the library now wearing a thong. Does that mean I'm "open to meeting someone" or feeling "promiscuous"? Of course it doesn't, it's my underwear. To suggest otherwise is illogical. My choice of clothing & underwear is not a declaration of consent. #ThisIsNotConsent

— aoife t. (@Tagerbombs) November 13, 2018
Politician Ruth Coppinger was seen holding up a pair of underwear in Dáil (Irish House of Representatives) to call attention to the barbaric manner in which rape cases are handled.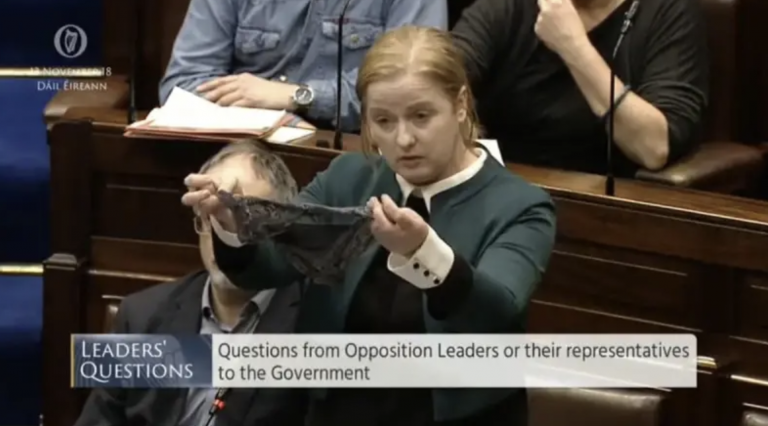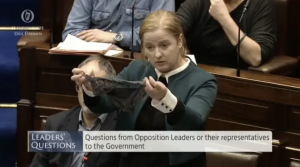 "It might seem embarrassing to show a pair of thongs here," Coppinger said. "How do you think a rape victim or a woman feels at the incongruous setting of her underwear being shown in a court?"
Coppinger also tweeted out this message to the public urging them to join protests.
I hear cameras cut away from me when I displayed this underwear in #Dáil. In courts victims can have their underwear passed around as evidence and it's within the rules, hence need to display in Dáil. Join protests tomorrow. In Dublin it's at Spire, 1pm.#dubw #ThisIsNotConsent pic.twitter.com/DvtaJL61qR

— Ruth Coppinger TD (@RuthCoppingerTD) November 13, 2018
A recent report stated that sexual assault reports have tripled over the last 18 years and less than 2% of those cases ended in a successful conviction.