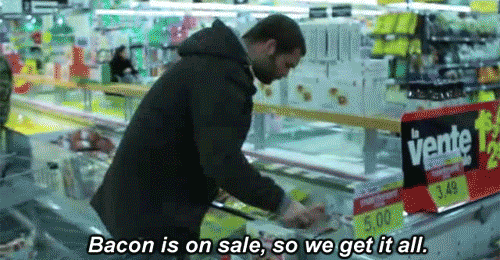 Bacon in the morning, bacon in the evening, bacon at dinner time. When bacon's on more bacon, you can have bacon anytime! Okay, so that's just the Bagel Bites theme song, but really, bacon definitely needs it's own jingle. So, America — let's get on it.
You can honestly put bacon on anything and it will taste like rainbows and sunshine and smokey, crunchy, heart attack goodness. And as a former vegetarian — I can truthfully say that bacon was my gateway drug… err, meat. I mean, people can definitely have bacon withdrawals.
So whether you're getting your sizzle on with seven pounds of bacon for brunch, drunkenly scarfing down a Baconator (or five) at 3 o'clock in the morning, or guzzling up that grease like it's no one's business — bacon is always bae.
Bacon is the sh*t and these people can't have enough of it:
---
1.

2.

3.

4.