Heidi Klum — our favorite supermodel and Victoria's Secret Angel turned Project Runway host turned wife of Seal turned ex-wife of Seal turned America's Got Talent host turned overall badass model, actress, and businesswoman — has thrown an epic New York City Halloween bash for the last 17 years and her costumes have always slayed the game. Sorry Harrison Ford, but I think Heidi's got you beat on this front.
While her costumes haven't always been as epic as they are today (um, hello Jessica Rabbit?!), her early years of dressing up still proved that she had the creativity and Halloween sparkle to make heads turn. And what's great is that Klum doesn't always have to look like your drunk sorority sister's sexy nurse get-up. Heidi gets that turning heads doesn't always mean showing the most skin or wearing the most provocative outfit — though she's definitely shown off her 7 foot long on more than one occasion. I mean, if you got it flaunt it. Personally, I enjoy people dressed up like different foods for Halloween, but that's just me. Shouts out to all my Taco and Bacon costumers!
So while the majority of us aren't rich enough or famous enough or hot enough to procure a ticket to the most bangin' Halloween bash known to A-listers, that doesn't mean we still can't gawk and judge. For a woman who's been in the spotlight for most of her adult life, Heidi still seems like she doesn't take herself too seriously — and that's pretty refreshing when it comes to Hollywood. She keeps our peasant asses on the edge of our seats, and I can't wait to see what Heidi cooks up for this Halloween! And if we're being honest, I kind of hope that she goes as George Costanza from Seinfeld, but that's just me.
While we wait for her next outrageous costume, let's take a look back at all of Heidi Klum's jaw-dropping costumes from years past:
---
1. Leather Pippi Longstockings, 2000

Heidi took a cue from the BDSM community and amped up her leather milkmaid costume with an edgy studded collar and the highest leather boots you ever did see. Even though this was her first bash, she still laid the groundwork for epic costumes to come.
2. Lady Godiva, 2001

For Heidi's second Halloween party, she took it up a level and made her entrance on a real live horse! Heidi still loves a high lace up boot and not taking herself too seriously. Also, is it just me, or does her Lady Godiva costume look like a vampire-Toxic-music-video-Britney-Spears with a really sh*tty wig on? Oh, just me? Oh well.
3. Betty Boop, 2002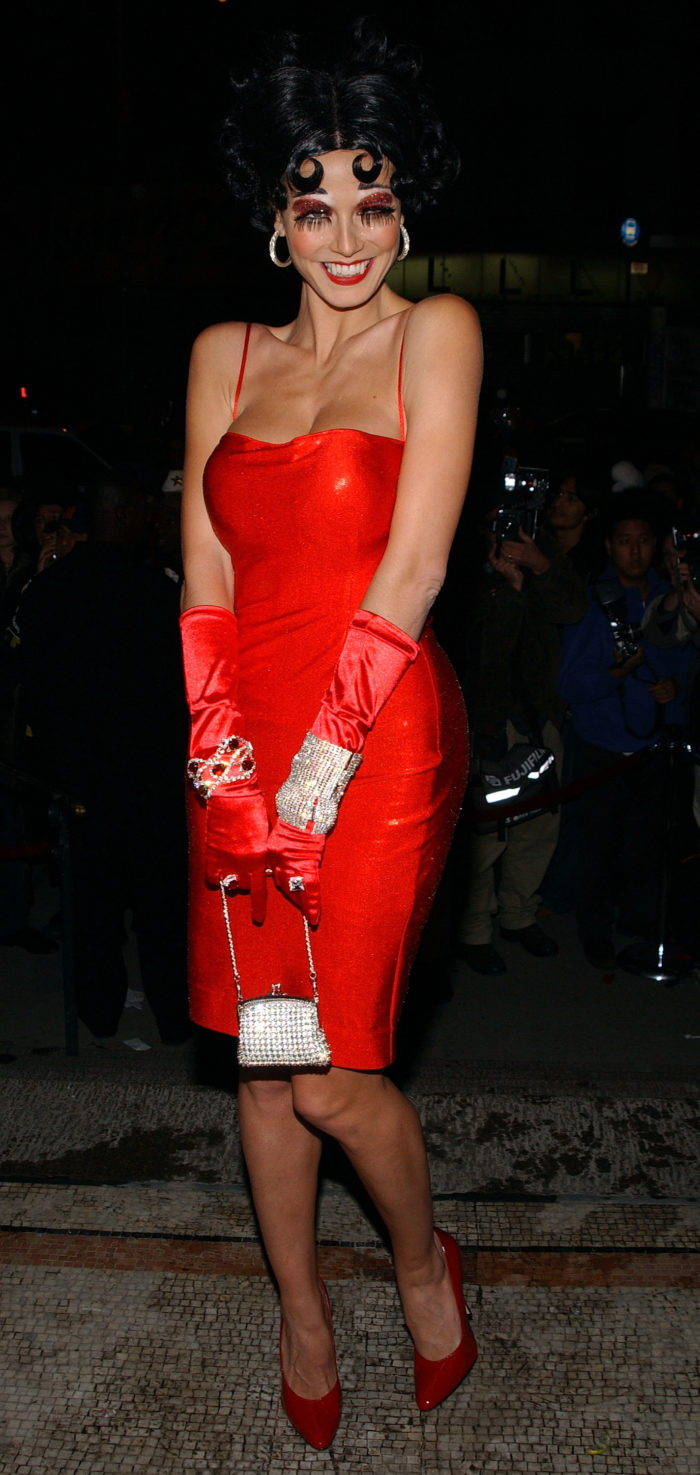 For this Hallow's Eve, Klum opted for a sexy, shiny, and very red ode to Betty Boop. The perfectly sculpted wig and crazy eyelashes helped take her costume over the edge. And her reason for wearing vampire teeth? Well, I just don't f*cking know.
4. Gold Alien/Predator (with hella cleavage), 2003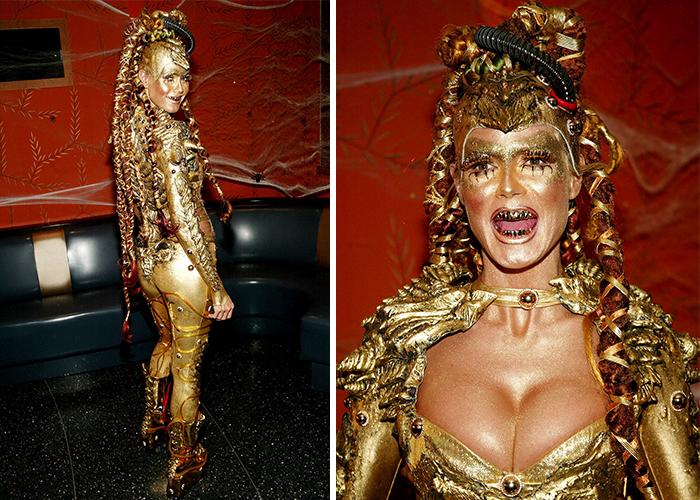 Did somebody just watch Alien and try to go for a little bit of a Mad Max with grills and dreads kind of vibe? Heidi did! Heidi is feelin' herself in this all gold ensemble and not playing it safe in the makeup department. Kylie would be v proud.