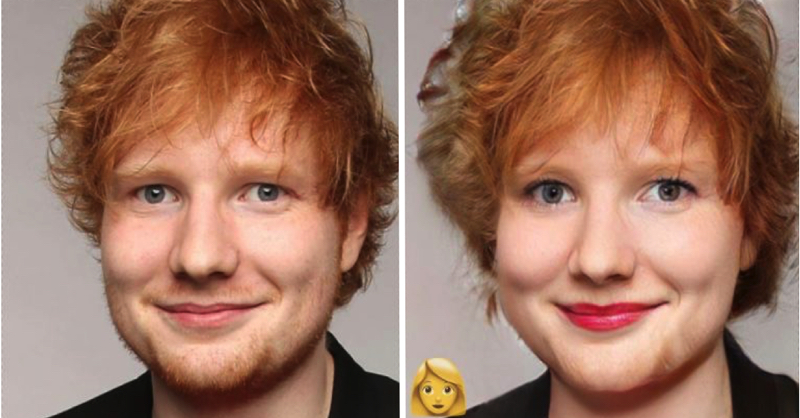 Oh the wonder of the internet and special iPhone apps. What would the world do without you there to fill our time with meaningless (and hilarious) pictures of celebrities and their fake, opposite sex counterparts? But like, who knew Ed Sheeran made such a homely and sweet looking middle aged housewife?! I can see it now — Edna Sheeran comes out with the follow up hit single "Mashed Potatoes For Dinner" after your favorite "Have You Cleaned Your Room Yet?"
Have you ever wondered what you'll look like in 50 years? Well, now you can see! Thanks to handy FaceApp, we can become even more obsessed with the way we look and how we might THEORETICALLY look. What else could a millennial ask for?
So hold on to your butts, y'all, because this is the app taking celebrities' faces by storm and giving stars like Ryan Gosling, Emma Stone, and Barack Obama the makeover of their lives! Can you make it through this entire post without downloading the app for yourself? I dare you.
These are 21 of the most ridiculous, hilarious, and WTF FaceApped celebrities on the Internet:
---
1. Justin Bieber

Honestly, the Biebs makes one DAMN pretty gal. Those eyelashes, tho.
2. Barack Obama

FaceApp NAILED this older version of Barack Obama.
3. Beyoncé

If only we could all age as gracefully as Queen Bey. *sigh*
4. Ryan Gosling

10/10 would still bone 75 year old Ryan Gosling. And girl Ryan Gosling. Actually, any legal aged Ryan Gosling will do.
5. Kim Jong-un

Kim Jong-un makes me feel eerily uncomfortable at any age or sex. No thank you.