Greek life sometimes gets a bad rap. I mean, I get it — countless frats have drugged, raped, and assaulted young, impressionable women. College kids have died from alcohol poisoning and been pushed aside in closets only to be found the next morning. Reputations have been ruined from all of the crazy and ridiculous vomit/sh*tting/drugged out shenanigans that happen at sorority and frat parties on the reg, so it's no surprise to anyone that college kids get rowdy. But once you peel back the veil of neon Kappa Kappa Gamma bro tanks and khaki shorts and shots of Fireball — the reality is much, much more frightening.
It's hard for anyone outside of the greek system to know what REALLY goes on at formals and keggers and themed costume parties, but for those who have rushed and lived to tell the tale — sh*t is completely insane. And I'm not talking about "oops we stole the rival college's mascot animal and dressed it up like a baby" insane — I'm talking about "cocaine drug pushing situations where half of a frat house gets arrested and put in jail" kind of insane. I guess if you had all of the connections, money, and entitlement in the world, why would't you try to be Pablo Escobar? My b, I've been watching too much Narcos.
Maybe you were the naive freshman who ended up sh*tting all over the bathtub at a sorority retreat. Or maybe you saw someone jump to their death on the frat lawn. Either way, Greek life harbors some pretty scary and outrageous stories that will make you never want to do a keg stand again. I remember my last frat party like it was yesterday. The year: 2008. There was a guy with a visor grinding with a girl in the corner of a foggy basement while dubstep blared on sh*tty speakers and empty Keystone cans jostled on the floor. I got out of there faster than a rich dad can get his fratty son out of jail.
These are 21 of the most insane things that have ever happened in fraternities and sororities:
---
1.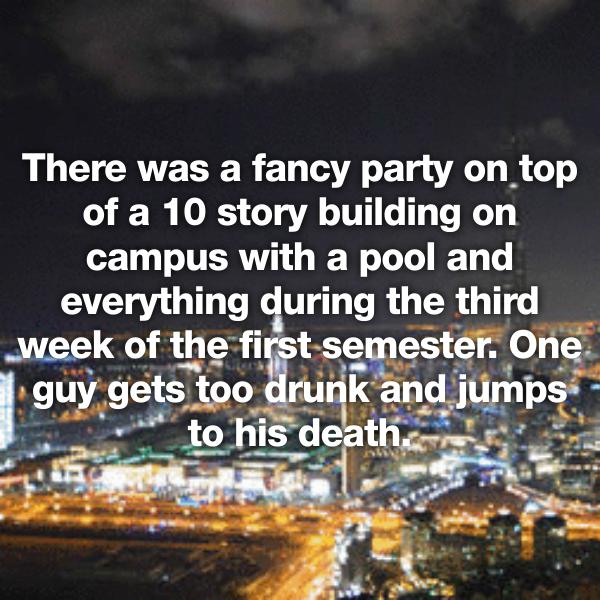 2.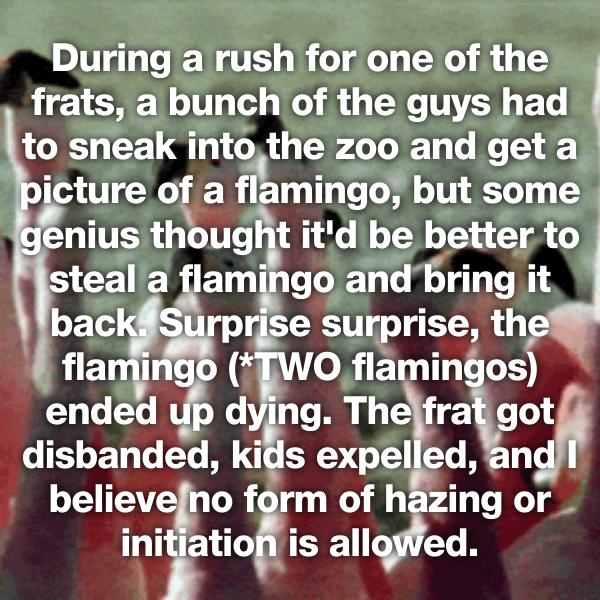 3.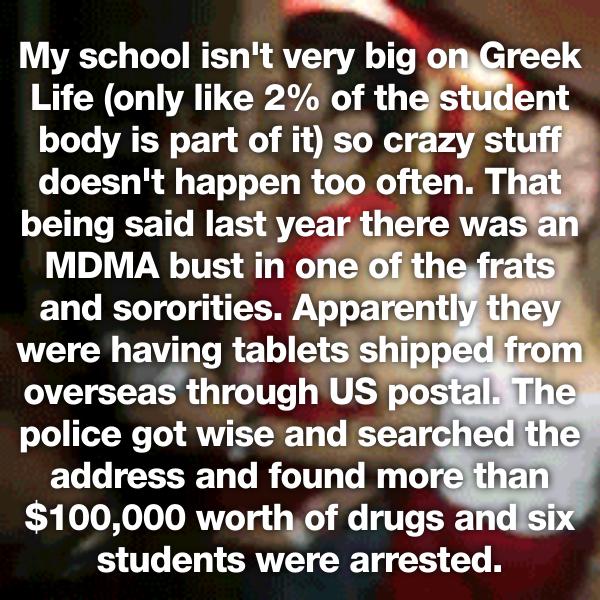 4.