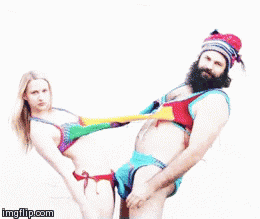 Sometimes people say and do weird sh*t during sex — that's a given. But what happens when people do things so bizarre, so whacky, so WTF (!?!) that you're left wondering how someone could actually think of anything so strange.
I thought I was weird, but pretending that your bed is a cage, you're a hamster, and your boyfriend's d*ck is the water spout makes my freaky tendencies look elementary at best.  I either need to step my rodent fantasy game up, or continue on with my bleak and boring sex life.
BRB — going to buy a guinea pig.
These bizarre sex tales will make you feel a little bit more "normal" — although, who are we kidding? We're all freaks.
---
1.

2.

3.

4.

5.