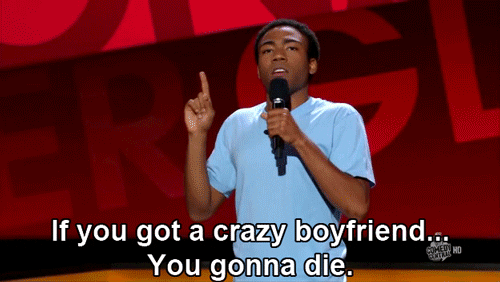 Dating — it's a hell of a b*tch, y'all. In order to find "the one," you have to dig and flirt and f*ck your way through a smorgasbord of possessive douchebags and manipulative, immature d*cks.
You might think you have a pretty good head on your shoulders. You might think that you have an uncanny ability to sort through the bad ones. But sometimes love (and hot people) blind you to the crazies that they really are. Sure, they might be dynamite in bed, but if they're huge a**holes to all of your friends, they won't let you out of the house wearing what you want, and they use their fragile egos and stifling insecurities to make YOU feel bad about your life, then YEP —  you need to drop those dudes faster than a hot tamale.
If he still lives with his parents and he's 45 years old — red flag. If he always compares you to his mother — oh honey, that's a red flag. If he has PTSD and tries to choke you out in the middle of the night, but he never actually got past basic training — RUN LIKE YOU'VE NEVER RUN BEFORE!
These ladies confess the red flags that prove the dude you're dating is crazy AF:
#byefelipe
---
1.

2.

3.

4.