Of the many fan theories surrounding Game of Thrones season eight, two stand out: Jon Snow — if he is, in fact, the reincarnation of legendary hero and Whitewalker destroyer Azor Ahai — kills distant relative and new lover Daenerys Targaryen. Or Dany kills Jon Snow.
Reddit user SlowMobius650 expounds on the first: "Do you think Jon might kill Dany if he is in fact Azor Ahai? I've been thinking that the original Azor Ahai stabbed his wife in the heart in order to make the light bringer sword which stopped the White Walkers because the other attempts to make the sword failed."
Jon and Dany are not married— though a (hopefully unbloody) season eight wedding is certainly a possibility.
"Jon seems willing to do whatever is needed to stop the White Walkers so he might come around to the realization of what has to be done and go through with it if this is in fact true."
We know that when push came to shove, Jon Snow would Do The Right Thing, cost be damned. SlowMobius650 continued: "I also think that the red witch might talk to Jon and tell him of the prophecy and who she might think he truly is and what he is capable of doing or has to do."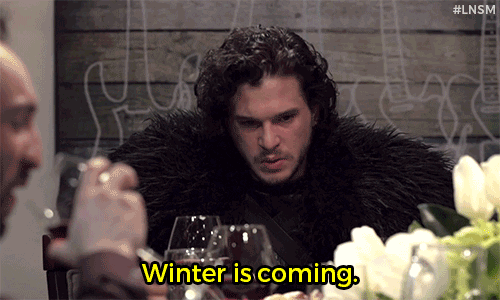 If anyone could convince Jon to kill Dany in order to save all of Westeros, it would be Melisandre.
However, Reddit user ssoko believes Dany is fated to kill Jon. For one, prophecies abound in the GoT universe, and there are several suggesting that Dany too could be Azor Ahai.
"There's been a lot of discussion of evidence, but I think it's time to take a look at the nature of these two characters, and to note that it's possible that, with prophetic knowledge and their newly-consummated relationship, they get a chance to CHOOSE who is sacrificed to wield Lightbringer. And who would make that ultimate sacrifice?

"Dany told Jon upon their meeting that 'I was born to rule, and I will rule.' Jon told her that he dislikes ruling. Daenerys is a rule-breaker and a feminist. Jon does his duty, and now part of his duty, in his mind (or heart) will be to her. In order for Dany to rule, he must make the ultimate sacrifice. We have seen him make these sacrifices time and time again."
Jon never wanted to rule whereas becoming queen of the entire world was always the end all be all for Dany. As such, it is unlikely Dany would give up the throne out of love. User ssoko also posits that Dany may be pregnant — in which case, it seems likely that the offspring of the two Targaryens grows up to become the fated Azor Ahai.
"Now, would Dany give up her chance to rule, and to make the world a better place, to save Jon? To add fuel to the fire (punpunpun), what if Daenerys were pregnant? Not saying that this is something that is def gonna happen, but if she were to be, then Jon would have a pretty easy sell there. And he would sell it. We know he would.

Alternatively, Dany could just temper her sword on a dragon heart and that'd be that, but I don't see the GOT producers, or George R.R. Martin, end things for us that easy."
No, they certainly won't. Considering history, the most likely scenario is that both Jon and Dany die; The show's cast, from the delicious and mysterious tidbits dropped in interviews, have refrained from pointing us too far in either direction. All we know is that blood abounds.
Sophie Turner, who plays Sansa Stark told 1883 magazine: "What can you know… This season is bloodier than ever. It's full of betrayal, full of war, full of danger. That's all I can say without giving too much away."