Could this be the beginning of a wonderful new feudship?
Ryan Reynolds teamed up with John Krasinski to roast Hugh Jackman for getting a little too cozy with Krasinksi's superstar wife, actress Emily Blunt.
Over the weekend, Variety magazine hosted their annual Actors on Actors event, which pairs two together actors to interview one another. This year, Blunt and Jackman were paired together. The latter tweeted about it afterwards.
Had the pleasure of chatting with the amazing EMILY BLUNT today. @Variety #actorsonactors @TheFrontRunner @MaryPoppins pic.twitter.com/djf832QpdY

— Hugh Jackman (@RealHughJackman) November 18, 2018
But Jackman's sweet tweet—which featured a photo of the pair on the red carpet—was a little too close for Krasinski's comfort. The actor fired back with a mocking, "Not sure this is what Variety meant with Actors on Actors."
Eeeeeeasy Hugh… not sure this is what @Variety meant with #ActorsonActors….Don't make me think I can hurt you. pic.twitter.com/cL8PUWhHqq

— John Krasinski (@johnkrasinski) November 18, 2018
Then Reynolds chimed in. Ever the sassy tweeter and Internet Zinger King, he wrote a simple "This man must be stopped." We stan a perfect trio of handsome dad-humored men.
This is a call to action. This man must be stopped.

— Ryan Reynolds (@VancityReynolds) November 19, 2018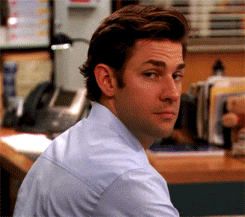 Though, fair warning to The Quiet Place actor: If the following tweet is any indication, Krasinksi may want to think twice before getting involved in the zinger war between Reynolds and Jackman. These two are highly experienced.
This man is a monster. He's not even from Australia. He's from Milwaukee. https://t.co/CxHceP4d9L

— Ryan Reynolds (@VancityReynolds) October 23, 2018