All those who have been intimately involved with a man share an array of similar experiences. *Waits patiently until "not all men" crowd stops shouting.* Here are 26 tweets even they will have no choice but to laugh at:
26.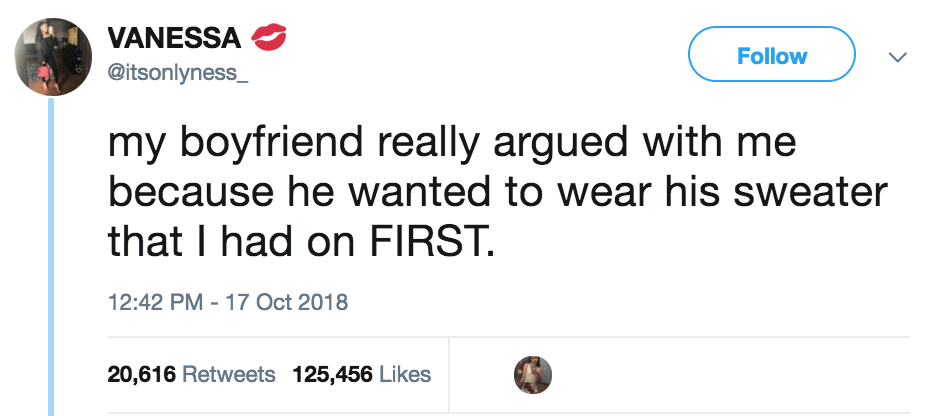 25.
Men b like communication is so important and then u ask them why and they're like idk I don't wanna talk about it

— im ANGY (@chaveIy) October 22, 2018
24.
Me pretending to know how to play fork knife to impress some guy pic.twitter.com/kifb7Le5t8

— Kung Fu Renny (@ruhnayyy_) April 29, 2018
23.
Me: I'm so depressed

Guys: damn :/ show me your butthole

— sarah schauer 🦂 (@SJSchauer) August 10, 2018
22.
men are trash
📍
📏 (1 alcoholic bev)
📏
📏
📍i need a man

— alexa (@mariokartdwi) October 20, 2018
21.
girls: the last time my best friend had sex was at 9:26 pm last Sunday and she didn't even finish even though he did

guys: my best friend may or may not be engaged to his girlfriend Stella or Stacey or Sandra or something idk we don't really talk about our personal lives much

— Abby Govindan (@abbygov) August 18, 2018
20.
— sarah (@HeySar4h) February 20, 2018
19.
i hate when my friend starts dating an idiot and i have to be like how could you bring this man into our lives

— dirt prince (@pant_leg) August 4, 2018
18.
a boy could ask ur bra size and u could be like "ak-47" and he would respond w "fuck 😩😩😩 ur so hot 😫"

— lil waste of space (@pupperonis) October 5, 2018
17.
lmfao every time pic.twitter.com/acnTJNKmBg

— dad hats™ (@TheyCallMeEMac) June 5, 2018
16.
why do men think guessing ur ethnicity is a good form of flirting

— ♡ kiran ♡ (@_veryspicy) July 28, 2018
15.
Dating guys in their 20s is an unpaid internship

— Gem (@gemma_e_b) October 11, 2018
14.
friends: he's going to waste your time
me: pic.twitter.com/C0WUp4CV8y

— loser ⋆ (@tristehomo) August 23, 2018
13.
Must be mad being a lad. Imagine ya go to message a girl and see your previous 7 'hey xxx' messages still unread and ignored AND THEN you send an 8th just incase 😩 8th time lucky

— Beth Hickman (@beth_hickmanx) August 20, 2018
12.
friends: he's going to waste your time
me: pic.twitter.com/C0WUp4CV8y

— loser ⋆ (@tristehomo) August 23, 2018
11.
Ariana had to learn the hard way what all women find out eventually: that sometimes you think a guy is amazing and funny and loving and sexy, but it turns out he's just tall

— katie (indoors) (@katefeetie) October 15, 2018
10.
Just spent $8 on ice cream that wasn't very good but I also spent 4 years on a boy who wasn't very good so I'm used to waste

— gov michaela (@MichaelaOkla) October 22, 2018
9.
My taste in men is so bad, the walk of shame for me is when I'm on my way to a date

— defne gencler (@omgitsdef) September 26, 2018
8.
Someone on tinder just unmatched me mid-conversation because I said I liked ketchup so yes it's going great

— Kendra 🐖 (@kendrawcandraw) June 23, 2019
7.
Some days I think I have self-respect, but other days I remember that I recently agreed to go on a first date with a man who opened the convo with "yee haw" pic.twitter.com/2CEnmCVg50

— Ginny Hogan_ (@ginnyhogan_) June 20, 2019
6.
My dating app just suggested I switch to the "find friends" setting.
Not sure what it's trying to say, but, fair.

— Susanna L Harris, PhD (@SusannaLHarris) June 21, 2019
5.
no greater shame than redownloading a dating app…. it's like yes, I would like to be disrespected by a stranger

— hermana cain (@ziwe) April 12, 2019
4.
Friend: How was your date last night?

Me: great, I totally got lucky

Friend: Oh yeah?

Me: yeah, he didn't show up

— Kara Morehart (@KaraMorehart) January 11, 2019
3.
Every time a dude starts a conversation with me on a dating app and then stops answering mid conversation I grow stronger and more powerful.

— nicole byer (@nicolebyer) June 15, 2019
2.
If I was a marriage counselor, I'd just make the couple log on to any dating app for 2 min.

— Eden Dranger (@Eden_Eats) March 2, 2019
1.
I'm not dating so much as I'm saying yes when people I find attractive offer to temporarily distract me from the raging global hellscape with shareable small plates and questions about what sports I played in grade school.

— Stephanie Mickus (@smickable) June 21, 2019