Sandra Oh made history this year when she became the first Asian actor to earn an Emmy nomination for outstanding lead actress in a drama for her role as Eve Polastri in BBC America's Killing Eve. But she made history in our hearts when she brought her parents, Mr. and Mrs. Oh, as her dates to the red carpet.
Oh was robbed when she lost to The Crown's Claire Foy, but the sartorial minded amongst us would argue that Oh's jaw-dropping plunging red dress, coupled with her adorable mom's traditional Korean hanbok (another first!) makes her the ultimate winner of the night.
MEDIA: "How much do you love her show?"
UMMA OH: *gives Sandra a kiss*
SANDRA: "OH MY GOD THAT HAPPENED ON FILM"

sandra oh is living every asian american child's dream right now my heart pic.twitter.com/PVYyi53TZZ

— William Yu (@its_willyu) September 18, 2018
Um, yes, Sandra Oh's mom straight up gave her daughter a kiss when the media asked her how much she loved Killing Eve. And, to be honest, Twitter could hardly handle it.
Is that my queen Sandra Oh with her eomma, whom is wearing hanbok in the Emmys red carpet?! Is this the first time a Korean woman has worn hanbok to the Emmys red carpet?! I LOVE THIS SO MUCH. pic.twitter.com/Zrz2FeUqvs

— sirena ???? (@bettyhonest) September 17, 2018
Sandra Oh introducing Milo Ventimiglia to her parents…. SHUT UP this is so precious. stuff like this is why I love the Emmys. pic.twitter.com/P9oBsQKIfY

— ًkeri russell warrior (@armoruins) September 17, 2018
Every time Sandra Oh gushes about her parents on the #Emmys red carpet an angel gets its wings.

— Alex Anastassiou (@alexanasta_) September 17, 2018
cause of death: sandra oh smiling as her hanbok-clad mom claps proudly pic.twitter.com/bkQKSG5oEM

— sara david (@SaraQDavid) September 18, 2018
Sandra Oh brought her parents as her date and her mom wore a hanbok that matched Sandra Oh's dress omg pic.twitter.com/W8Y8r9P6vu

— ellie hwa (@spectralsex) September 17, 2018
can sandra oh's parents adopt me please? pic.twitter.com/SOSokv41Ly

— Meghan Overdeep (@meghanoverdeep) September 17, 2018
Many Korean-Americans were stoked to see the hanbok on a red carpet event. TV producer Albert Kim wrote that it was a sign Koreans had officially "arrived" in the US.
Sandra Oh's mother is wearing a hanbok—and has done more for East Asian representation on television than all the broadcasts networks combined. #Emmys

— As(trid Leong) You Like It (@nicholaisays) September 18, 2018
Sandra Oh's mom wore a hanbok to the Emmys! There is a hanbok at the Emmys! Forget K-pop, THIS is the sign that Koreans have arrived. https://t.co/GZCtfBw1GR

— Albert Kim (@MagicBranch) September 17, 2018
I love everything about this. Never imagined seeing a Korean mom wear a hanbok at an American awards show ?? https://t.co/u3RHJzaZQV

— Michelle Ye Hee Lee (@myhlee) September 18, 2018
always dreamed to witness a korean american as a leading actress BUT ALSO a hanbok on the red carpet !!! this ? is ? important ? #Emmys https://t.co/aklDKq5O8D

— Stella (@bbstells) September 18, 2018
Sandra Oh told the New York Times she hoped representation at the Emmys would grow "not only… from yellow to brown, but to all our other sisters and brothers".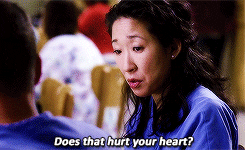 Yes. Yes it does.