A record-breaking 116 women were elected in Tuesday's midterm elections including the first Muslim and Native American women elected to Congress. If you think about it, that's a lot of shattered glass. Hell yes!
In honor of all of these truly inspirational women, the popular online retailer Uncommon Goods is currently featuring a stunning shattered glass ceiling necklace that reminds us of how far we've come and how many milestones are still ahead of us.
More than 100 women were elected in Tuesday's midterms.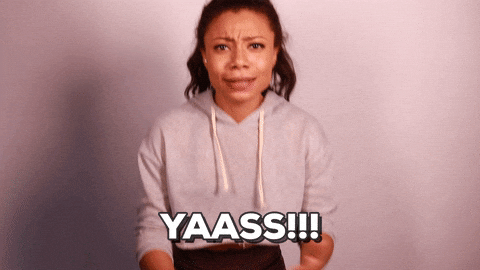 116 to be exact!
Online retailer Uncommon Goods is paying tribute to these truly kick-ass females and all of those fighting for equality with a shattered glass ceiling necklace.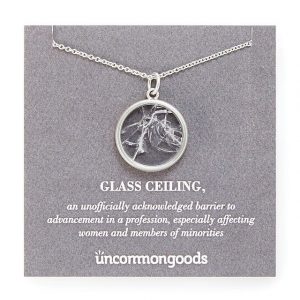 Inscribed on its packaging is the definition of a glass ceiling: "an unofficially acknowledged barrier to advancement in a profession, especially affecting women and members of minorities".
Handmade in Brooklyn, New York, the manually cracked glass symbolizes "all the milestone breakthroughs achieved by women past, present, and future."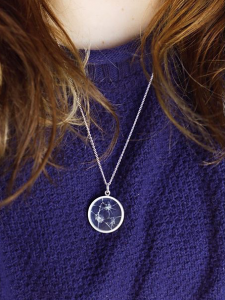 The cracked glass is beautifully displayed between two solid panes and is set in satin sterling silver with a sterling silver chain.
Customers are raving about the design and its meaning.
"I wear this necklace everyday. I use it as a prototype of breaking through my personal fears that keep me from moving forward. The quality of the necklace is strong and that within itself speaks deeply to personal strength and ability." – Kimberly
"Wonderful product! The oval glass was very nice! Chain seemed light and don't think it was sterling silver (no indication although assuming it was suppose to be). May end up buying a better chain for it. My daughter is involved with advancement of women and minorities and a very appropriate symbol for this. She is very career orientented and hope this gives her inspiration to continue." – Steve
"I bought this for my younger sister who just graduated college and absolutely killed it. She is going to make great strides for women as a woman and I think this piece captured that idea perfectly!" – sleeps in seattle
"Wonderful gift! Symbolic to young girls who will be the next generation to follow their dreams, break the stereotypes, and be the next to help break the glass ceiling for women." – Atlanta
"Beautiful piece with a powerful meaning. Whenever someone asks me why it's broken, it gives me the opportunity to tell them about the meaning and why it's so important. Makes for a great conversation starter." – JMarchAstonish
You can snag your very own shattered glass necklace (or purchase one for a powerhouse female in your life) on Uncommon Goods for $68.00.
Now let's get out there and shatter some more ceilings!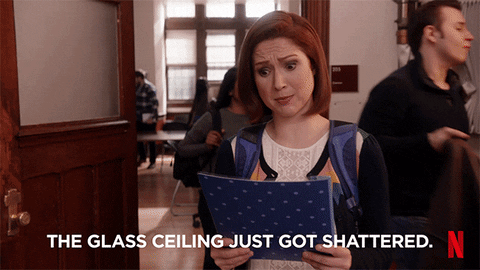 FYI: If you happen to purchase any of the products on this list, we may receive a portion of the sales. Thanks for reading!