Does the thought of being around other human beings make your stomach tighten? Would you rather stay home all day than subject yourself to the possibility of small talk? Have you ever blurted out "I love you" on accident? Do you often identify your personality with the likes of one Tina Belcher? If you've answered yes to any of these questions, chances are good that you're probably socially awkward—at least a little bit. Don't worry, the best people are. Embrace your inner Tina with these hilariously (and painfully) accurate products that only the truly awkward can appreciate.
*We hope you dig the products we recommend or just enjoy reading our content. In the spirit of full disclosure, we may receive a portion of the sales made on this page.
15. This mug that pretty much sums up your day today.
I'll be here feeling wildly uncomfortable all week, folks.
Get it on ModCloth for $15.00
14. A stress release toy that represents you when faced with any social situation.
It's coming out again, like word vomit!
Get it on Amazon for $1.49
13. This hilariously seductive George Costanza pin that should be worn at all times for every occasion.
If this doesn't turn your potential partner on, I don't know what will.
Get it on Amazon for $8.95
12. A throw pillow that expresses your burning desire to never, ever leave the house.
Home is where I can be awkward.
Get it on Urban Outfitters for $39.00
11. This awkward plush quote that's your internal reaction to literally everything.
*cringes*
Get it on Amazon for $25.00
10. A painfully accurate t-shirt that'll announce your general awkwardness to the world.
Don't feel bad, no one knows why I'm this way…not even me.
Get it on LookHUMAN for $19.99
9. This phone case that's perfect for meeting new people and then never talking to them again.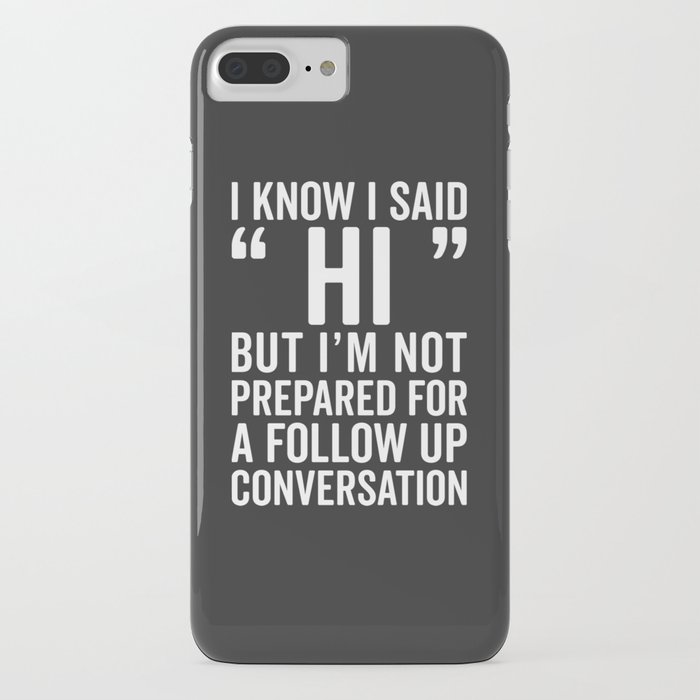 Just read the phone, k?
Get it on Society6 for $35.99
8. A subtle wine-dispensing purse for any situation that requires a little liquid reinforcement.
So, basically any social gathering ever.
Get it on Amazon for $21.80
7. This deck of slang flashcards to help you fit in with the "cool" kids.
"I see that you also like to roll deep, shorty." and other cringey phrases.
Get it on Amazon for $11.55
6. An all-too-relatable book about the horrors of dating apps.
Oh god, a match. *Sends Tina Belcher gif*
Get it on Amazon for $5.97