Actress Sophie Turner on Friday interrupted her honeymoon with Joe Jonas to offer a message of support for U.S. soccer star Alex Morgan.
For context: On Tuesday, the women's soccer team forward kicked the winning goal to beat England 2-1, leading the United States to the women's World Cup final. Morgan then pretended to sip an imaginary cup of tea, sparking criticism and allegations of poor sportsmanship.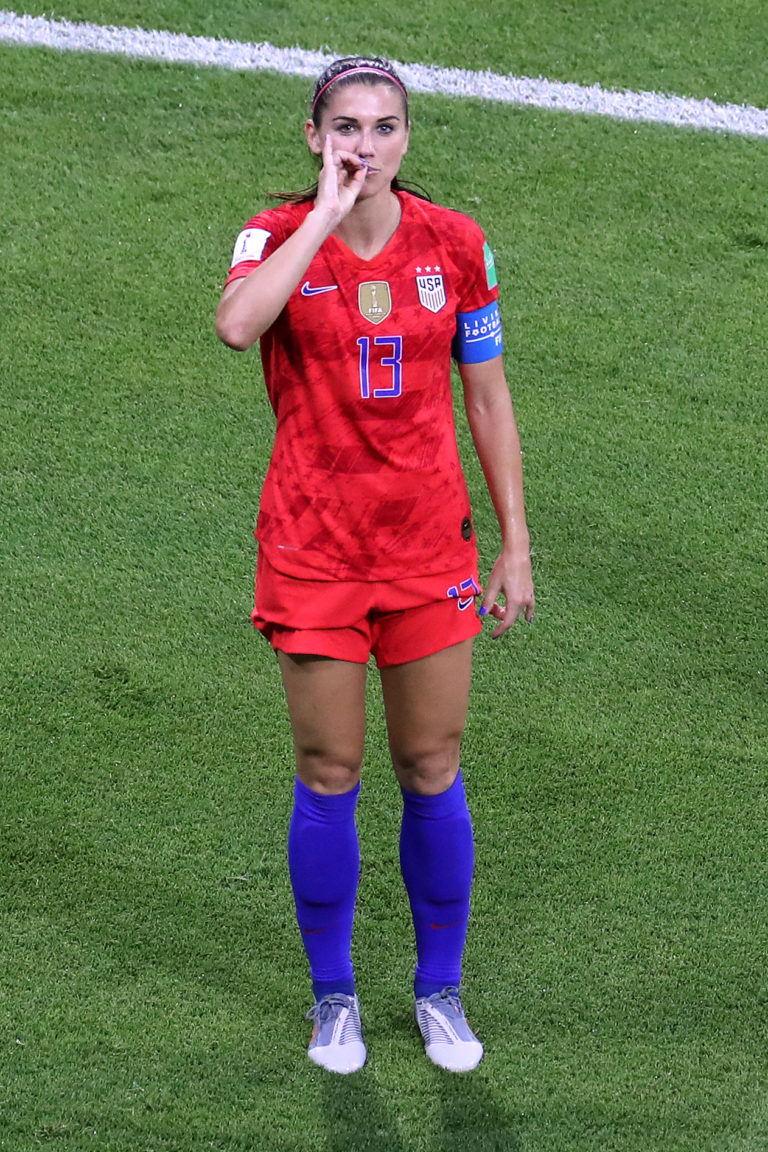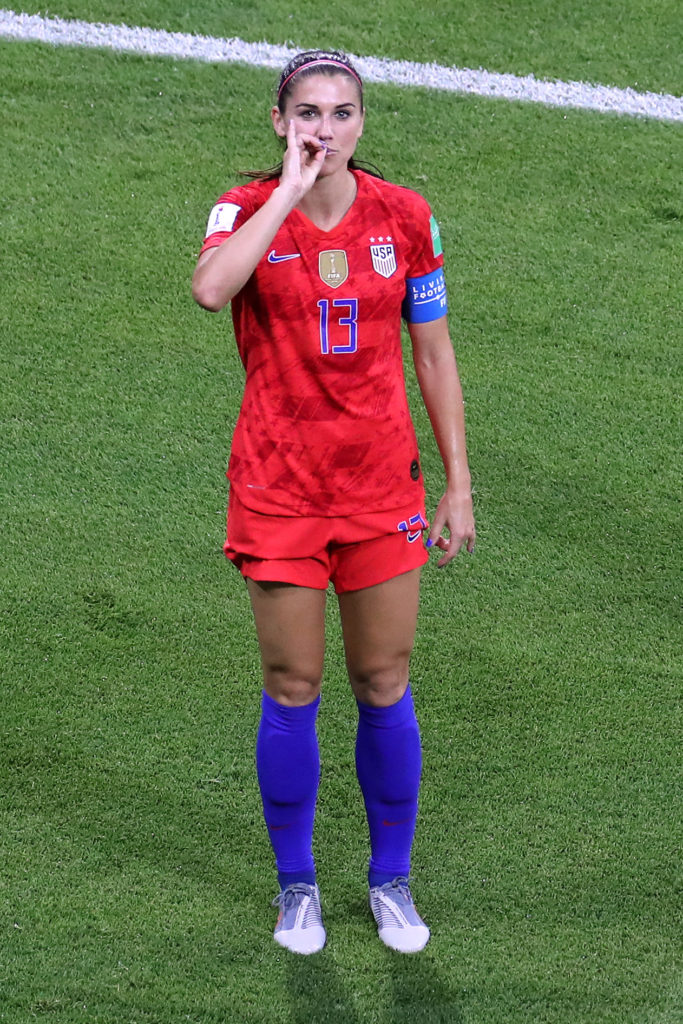 Morgan responded to critics by describing how "there is some sort of double standard for females in sports to feel like we have to be humble in our successes and have to celebrate, but not too much."
Alex Morgan notes the "double standard" for female athletes in how they are expected to celebrate their successes https://t.co/cgGDJj1ZDD pic.twitter.com/NpYIkuELyC

— TIME (@TIME) July 5, 2019
She also explained the 'sipping tea' thing: "My celebration was actually more about, 'That's the tea,' which is telling a story, spreading news," Morgan explained afterwards. "Sophie Turner does it quite often. She's one of my favorite actresses. So it wasn't a hit to England in any way."
Turner famously "sips tea" in Instagram videos after voicing a particularly strong or hot take, before delivering the tagline, "and that's the tea."
"OK, I'm on my honeymoon, I'm not really look at my phone much, but I feel like this deserves a mention," said the 23-year-old star in an Instagram Story on Friday, just days after her second wedding ceremony to Jonas in France.
.@alexmorgan13 said her tea celebration was inspired by Game of Thrones star Sophie Turner.

Turner showed her support and gave the haters the tea ? ? pic.twitter.com/RtVIKrnLFS

— ESPN (@espn) July 5, 2019
"Unfortunately, the U.K. Women's Football team lost at the World Cup, and of course, I'm incredibly sad and incredibly proud of that team. But I am so honored that we lost to such an incredible team, the U.S. Women's Football team."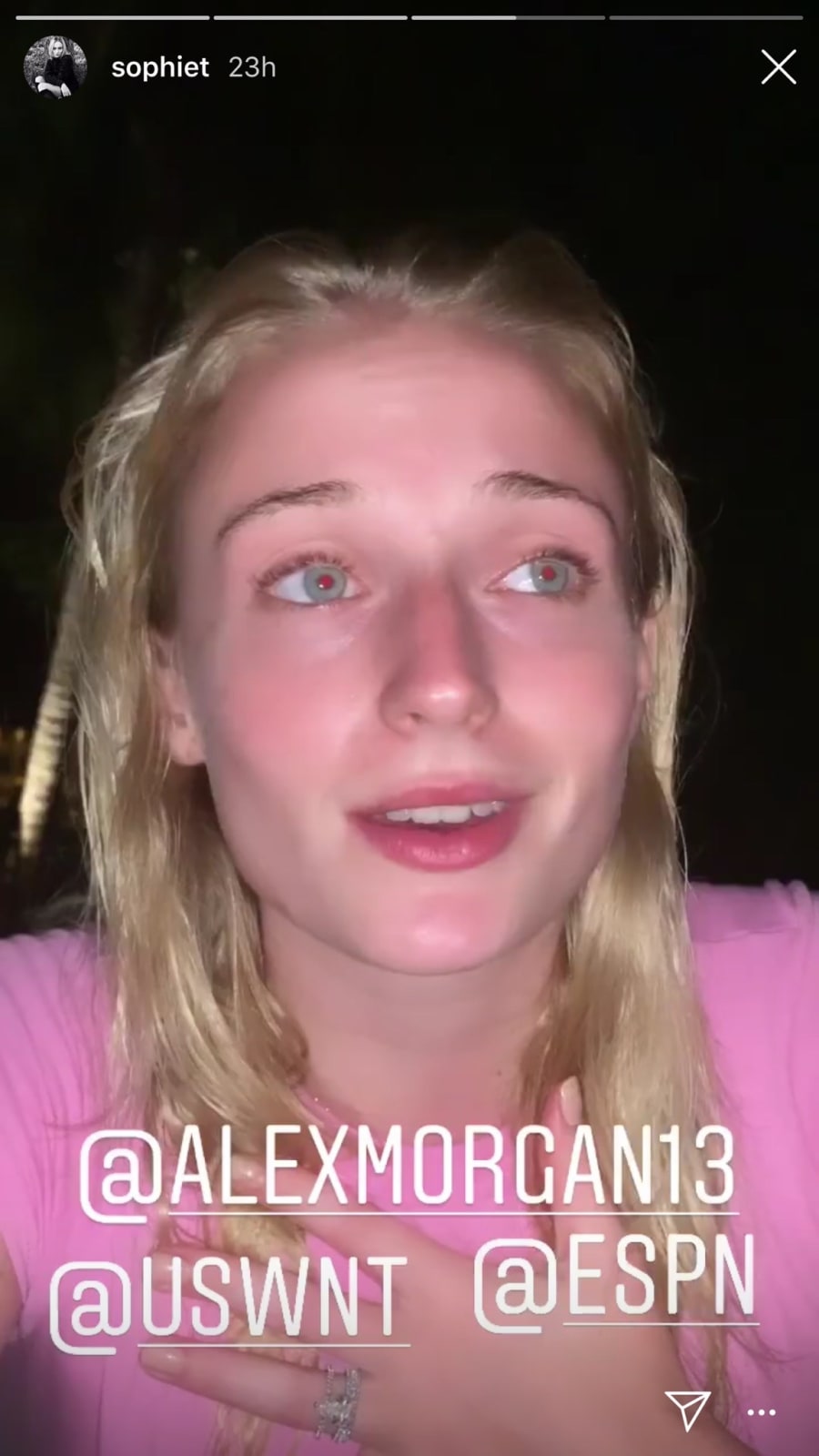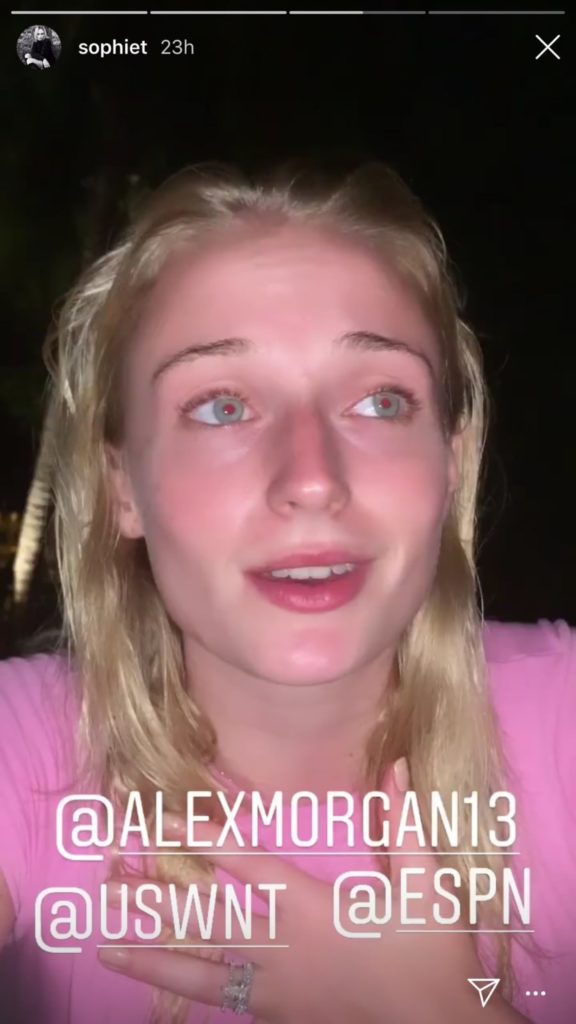 "Alex Morgan, all the haters that are saying that this was disrespectful, I'm honored that you thought of me and all those people that are hating on you are probably sitting at home, Millennials drinking Kombucha," Turner continued.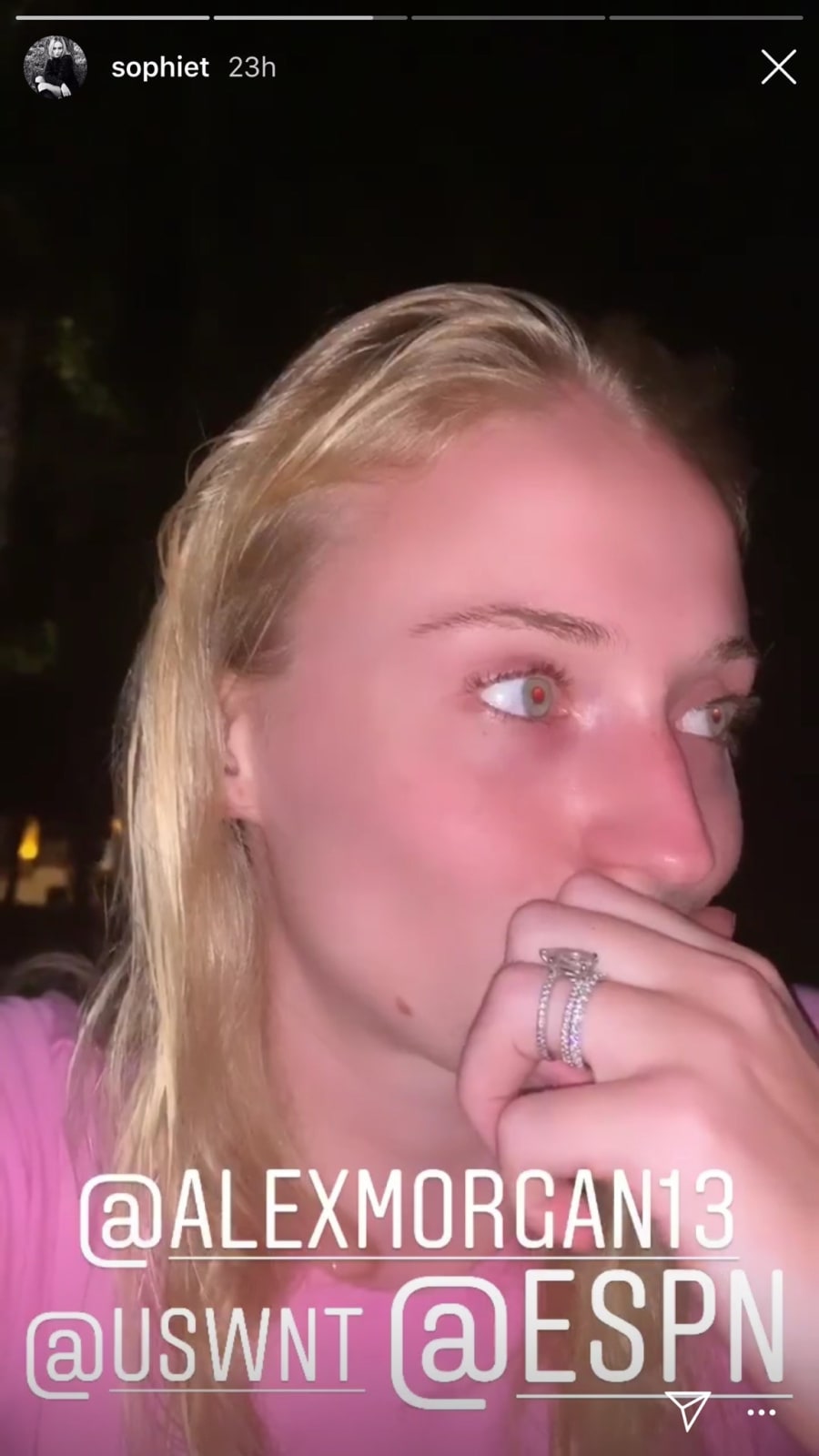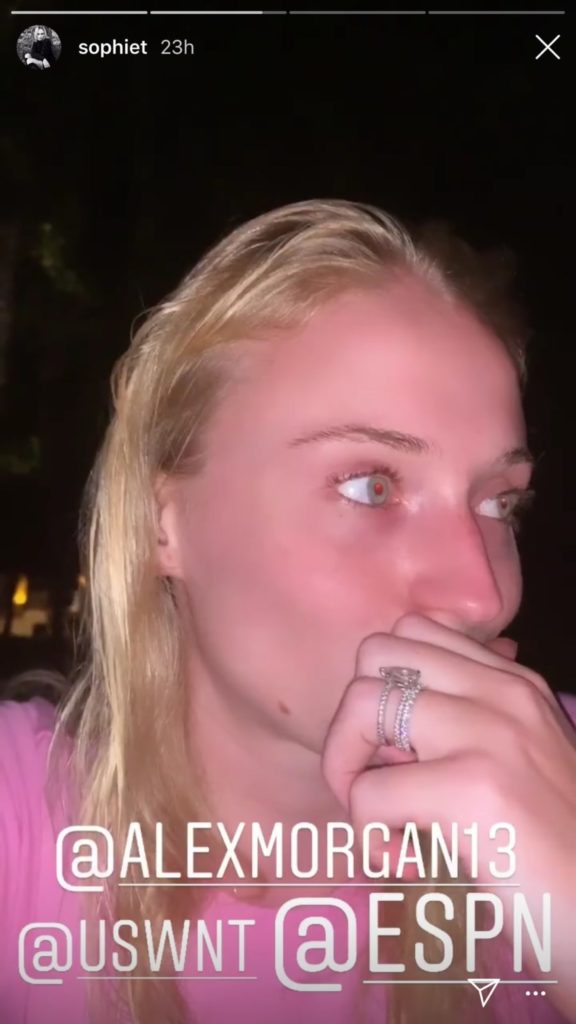 "And I'm really f—king proud of you, Alex Morgan, congratulations on your win. And that's the motherf—king tea."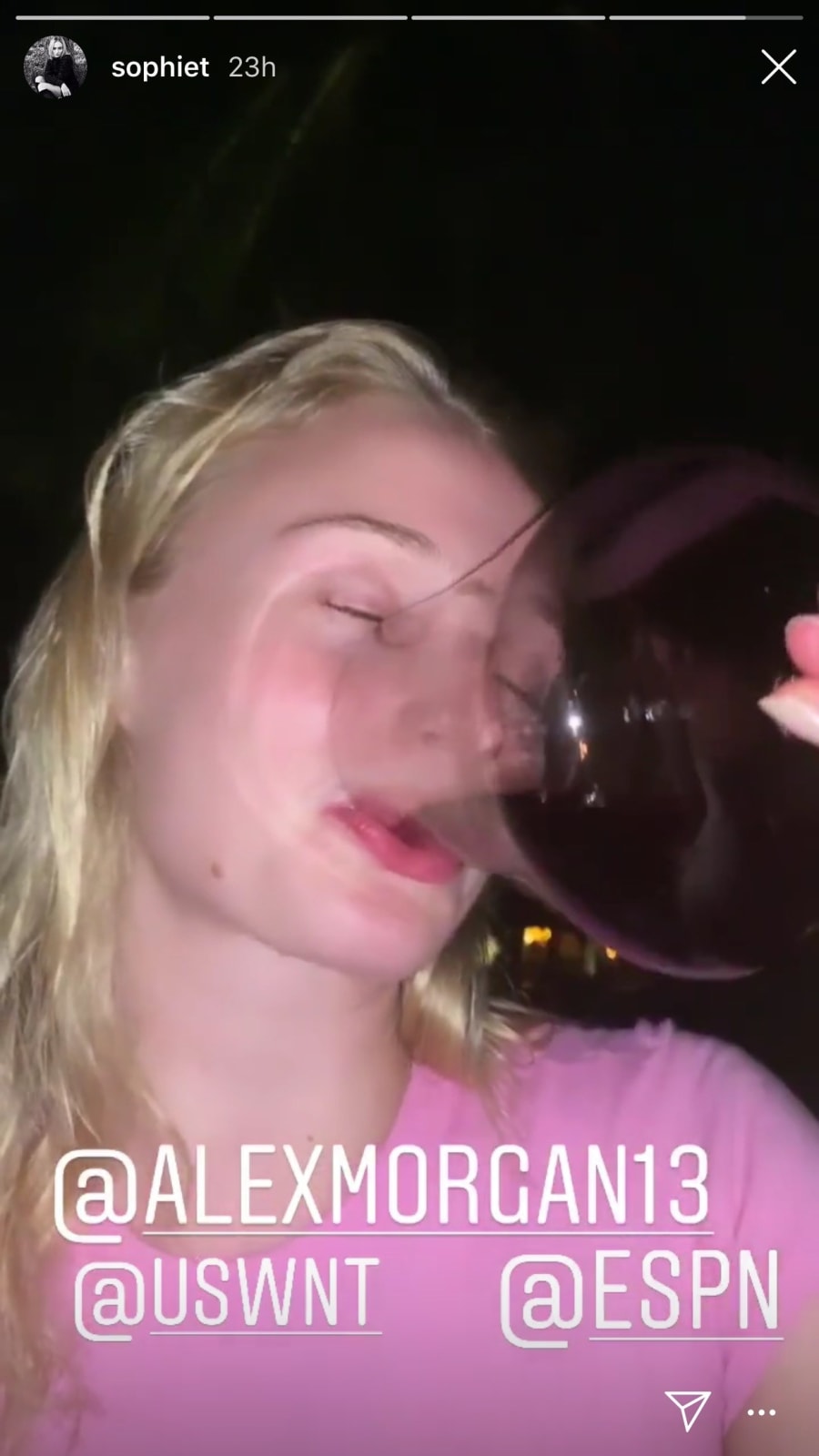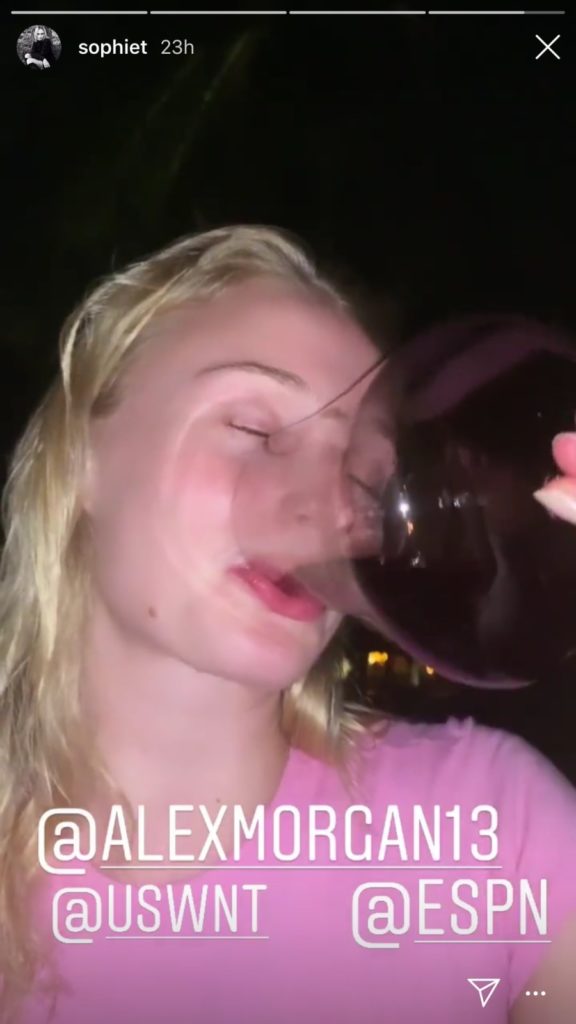 AND THAT'S?THE?TEA?
This team is special. Thanks for the bday love. Thanks for the rocking stadium. Thanks for continuing to believe with us. And that's the tea.

— Alex Morgan (@alexmorgan13) July 2, 2019
sophie turner wine drunk in the midst of her honeymoon logging onto insta to defend alex morgan I could not write better content if I tried https://t.co/pz1ETS29P8

— Emily Kukan (@emilychuckkukan) July 5, 2019
Good morning to Sophie Turner, logging on while absolutely sandblasted on her honeymoon to talk about how incredible Alex Morgan is, and Sophie Turner ONLY pic.twitter.com/KWmRQcN4gP

— king husband (@elanpin) July 5, 2019