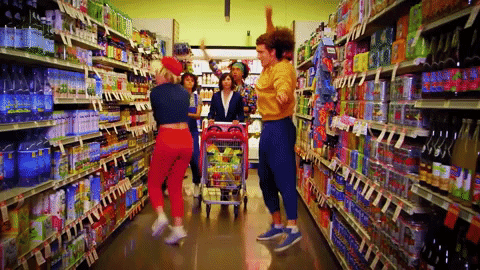 The supermarket is a wondrous place. It houses all my favorite fruit, vegetables, and bread, laundry detergent, small home appliances, Hot Cheetos, and most importantly — booze. I go there when I'm stressed out, when I'm hungry, and when I'm about to cook up a fat f*cking meal for my friends and family. I love the squeaky wheels on shopping carts, the apathetic cashiers, and how people check one another while trying to move down the aisles during Thanksgiving time. I love it all!
And I get it — working at a supermarket has to be really f*cking slightly annoying. You have to deal with hangry customers, people breaking pickle jars all over the floor, and stocking and restocking literally everything until you can restock no more. I'm sure people have died restocking shelves. Look it up. So it's no surprise when disgruntled employees troll the sh*t out of us. I mean, I get that ladies like to get down on pounds of chocolate when we're on our period, but like — do we really need a wall of Reese's Pieces next to the tampons?! Actually, thank you for that.
Whether it's a wall full of knives right next to your "back to school" items or a sign about managing your diabetes that hangs over a table of cakes (lolol) — some supermarket employees have to pass the time by making us chuckle in the most ridiculous ways. For all my brothers and sisters stocking a shelf right now during the graveyard shift — this one's for you!
These supermarket employees trolled us super hard:
---
1.

2.

3.

4.

5.

6.