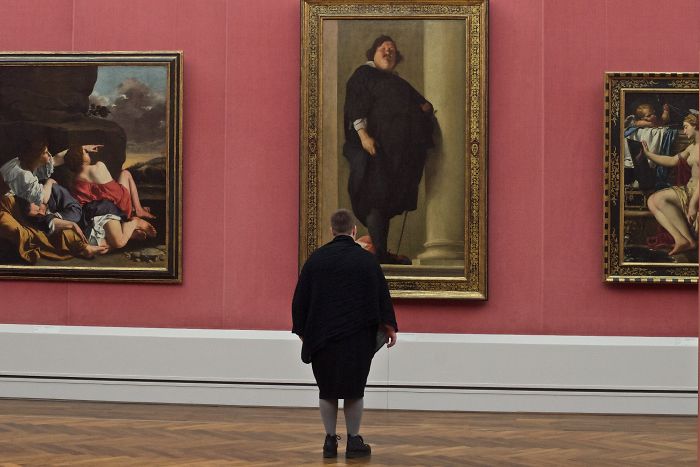 Getting lost in a museum for a day in a foreign city has such magical allure. People pass by, fawning and contemplating and soaking in centuries-old art just as people have been doing for days and years and decades before them. For one photographer, though, he's less intrigued by the works themselves and more enveloped by the clothing and attire of the many museum goers.
French-based photographer, Stefan Draschan, loiters in different galleries around Berlin, Paris, and Vienna hoping to snap pictures of people standing in front of paintings that match their outfits. In some instances, the colors and lines and textures are almost identical. In others, it looks as though the onlookers have jumped straight out of the environment in the painting. Maybe it's someone's beard or shawl or pant color scheme. Either way, these photographs prove just how similar and wonderful the human condition over time can be.
So the next time you find yourself at a famous museum, take a moment to look around at the many viewers surrounding you. Get lost in the aesthetics and history of design, mood, and color. In this day and age, it's easy to get swept up in the hustle and bustle of modern life, but if you take the time to slow down and soak in your environment — magic abounds. And you might just find some whimsical similarities for yourself!
These 35 pictures show how eerily similar some people match the paintings they're standing in front of and it's absolutely breathtaking:
You can check out more of his delectable photos at People Matching Artworks.
---
1. When contemporary knives and zebra print collide.

2. TFW your head is just a fish bowl.

3.

4.

5.

6.

7.