Ah, summer. Time to get out there into the great outdoors and take in all that the sunshine and warm weather have to offer. Hahaha, just kidding — time to close the blinds, grab some snacks, and binge-watch TV to your heart's content.
Are there older shows you've been meaning to watch or newer ones you need to catch up on? Now is the time. But did you know that there are tons of TV shows that are only available on Amazon Prime? Here's just a sampling of all the shows you can watch (or rewatch) for free if you're a Prime member, or for just a few bucks per episode if you're not.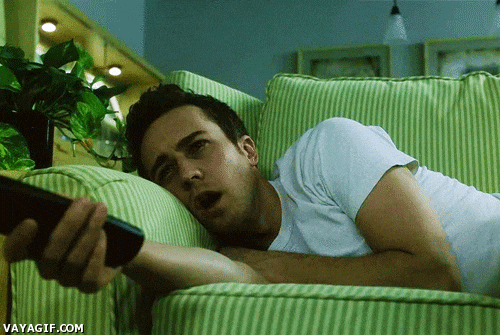 25. The Wire — W
ritten by author and former police reporter David Simon, this gritty drama focuses on the drug problem in Baltimore. Each of its five seasons has a slightly different theme. 
It is actually illegal to describe The Wire without using the word "gritty."
Seasons: 5
Favorable review: One of the few DVD sets that I own. Hands down the best effort ever put forth on the medium of television. The first season could stand alone as a great novel brought to the small screen, but you will be hooked and watch the entire five season series. The first season deals primarily with a drug dealing organization in Baltimore and a police unit which is tasked to investigate said drug dealers, however, the length of the series allows the in depth exploration of the criminal justice/court system, the politicians, the municipal education institutions, and the newspapers that cover it all – set against the backdrop of a decaying, although sometimes gentrifying Baltimore. Every police officer, criminal, politician, bureaucrat, newspaperman, judge, attorney, or student will appreciate the absolute truths and realism presented in this series…and you'll have to watch at least three times to see everything. Great characters and acting, unbelievably accurate dialogue, and attention grabbing plot arcs that will make the viewer binge watch to the exclusion of personal hygiene…yeah – it's that good. – mp mcgrath
Watch here ($2.99/episode if you don't have a Prime subscription).
24. Fleabag — A hilarious and poignant British TV show about the life of a young woman left to run a cafe by herself after the death of her best friend. Heads up: this show is often very NSFW. But why would you be watching TV at work?
The show is based on a play by the same name written by its star, Phoebe Waller-Bridge.
Season: 1 (ongoing)
Favorable review: Filthy, perverted, dark, and absolutely hilarious. Phoebe Waller-Bridge is perfection and even though she's the worst person ever you kind of want to be best friends with her. This is not a comedy for everyone, if you'd call Gilmore Girls your favorite show, this probably isn't for you. Most of the negative reviews seem to be from people that are not the intended audience. If you're a little sick and twisted yourself and appreciate a sharp-witted, edgy female comedy that doesn't shy away from shocking, yet realistic, unladylike things, this one is for you. Hope to see a Season 2. Well done Amazon. – Lei lee
Watch here (only available for Prime members; watch first episode for free).
23. The Sopranos — Set mostly in New Jersey, the Sopranos follows the life of Italian-American mobster Tony Soprano (James Gandolfini) as he tries to balance work and family.
Everyone's favorite TV show ever.
Seasons: 6
Favorable review: Welcome to the dysfunctional world of the Soprano Crime Family. It all begins with a panic attack for patriarch Tony Soprano who is a capo (or captain with his own crew) in the beginning of this high melodrama. After finding nothing wrong with Tony, he's sent to a psychiatrist, Dr. Melfi. From there we meet the entire family, including wife Carmella, Tony's children, his associates, his enemies, and his annoying mother. This is what I refer to as gothic drama because it is so ornate in it's construction that there are thousands of little details to be seen among the big brush strokes of the surface story of the usual mafia activities: loan sharks, gambling, etc. Considering this show is now almost 15 years old, it is remarkable how poignant it remains. The common themes of loyalty and love are timeless, but the prescient observance of drug abuse, children run wild, collapse of family values, ring loud and clear to an audience today. There are funny moments, too, usually punctuated by a clever line that underscores the absurdity of it all. But don't be confused, these characters share a sociopathic sensibility that rears its ugly head. From the quality of the acting, to the locations, to the dialog, the Sopranos rises above regular drama, ascending the heights of the genre. I enjoyed this show when it was on television and enjoyed it even more, watching this season launch the series a second time. Please note: This is not a series for the sensitive or squeamish. Every offense is played to the hilt, in context, and without shame. – SanNic44
Watch here ($2.99/episode if you don't have a Prime subscription).
22. Mr. Robot —This is the story of Elliot Alderson, cybersecurity engineer by day and hacker by night, who gets recruited to join a group of anarchist hacktivists called "fsociety."
Star Rami Malek won an Emmy for his portrayal of Elliot Alderson.
Seasons: 3 (ongoing)
Favorable review: This is a major score! I was totally engulfed in this gripping series. I love plot twists, this has em. You can't take your eyes off for one second or you may miss a major part of the scene set-up. every nuance of this this film was produced in a way that makes you crave for more. Every character is layered, rich and dark. I love dark and edgy. Push the limited of television.I'm glad that Amazon picked this up and I wish they'd hurry up and add the other seasons as well. Wonderfully written, produced and the actors superb! We all need a break from the boring reality genre, this is your chance to remember why we started watching tv again. Great writing, thought evoking, emotional drama and something close to our real culture and times of this age! LOVE IT! MORE PLEASE! – Demi Black
Watch here ($2.99/episode if you don't have a Prime subscription).
21. Bones — Set in Washington, DC, Bones is a long-running (12 seasons!) crime procedural in which each episode centers around an FBI case file and deals with forensic anthropology and forensic archaeology.
If you know what the Body Farm is, this is the show for you.
Seasons: 12
Favorable review: This show surprised me. Unlike the usual detective/cop murder shows, this one has insight into the construction of a murder: bone, tissue, bugs, facial reconstruction. The characters are very personable and different, making the mix intriguing. The "squints" from the Smithsonian Institute who are all high IQ geniuses in their field and the lone macho FBI agent who tries to get workable information out of them is hilarious. I would definitely recommend this series to anyone who likes murder mysteries with the focus on laboratory findings and an outclassed, frustrated FBI agent trying to get the "squints" to speak in simple layman terms so he can solve his cases. – Mordris
Watch here ($2.99/episode if you don't have a Prime subscription).
20. The Americans — Taking place during the Cold War in the 1980s, this show follows the lives of two KGB spies posing as an American married couple in Washington, DC.
Stars Keri "Felicity" Russell and Matthew Rhys are a real life couple.
Seasons: 6
Favorable review: This is definitely one of the best series ever, while providing a view of historical events that occurred during the Cold War between Russia and America, it demonstrates the connections between people and how they affect these events. The actors bring realism to episodes that could easily become unbelievable or tiresome with less talented stars. The drama unfolds with each separate story intersecting in ways that are easy to follow and are truly intriguing. How does a mother pack lunches for her kids in the morning, put on a disguise and assume a role like a call girl or killer so convincingly? This is my second time going through this show and I'm loving how I can pick up on a few new queues and amazed at how much is packed into each episode. Of note in my revisiting this time around is the credit given to Oliver North who shared his experiences to provide realism to the story line regarding the contra rebels in Nicaragua. – Pat D.
Watch here ($2.99/episode if you don't have a Prime subscription).
19. The Tick — An adaptation of a comic book by the same name, this hilarious show is a sort of parody of the typical superhero show. You'll like it even if superheroes are not your thing.
This isn't the first adaptation of Ben Edlund's comic — there's already been a cartoon and another live-action version.
Seasons: 1 (ongoing)
Favorable review: At first I was a little worried about the tone of the pilot. I was not sure how they were going to go. Were they going down the path of Marvel? Were they going to mess up The Tick world like they did with DC. Nope they wanted a real world, with the Tick. I love it. It was different than the cartoon, past TV show and the comic but I think what they did was bring in all the great elements from all the past content. Peter Serafinowicz is so funny as The Tick. He has mastered the Monolog. Thank you for some great casting. I hope this show take off. It really makes me happy to see it come back once more. – E. Linder
Watch here (only available for Prime members; watch first episode for free).
18. Six Feet Under — If you've ever wondered what it would be like to live and work in a funeral home, this show was made for you. Each episode focuses on a different random death, as well as the trials and tribulations of the Fisher family.
Watch Michael C. Hall play someone completely different from Dexter.
The last episode of the fifth season is one of the best final episodes ever.
Seasons: 5
Favorable review: One of the best shows ever produced. You might find the premise depressing or disturbing–life inside a family that owns a funeral home–but trust me when I tell you it is not. The stories are unique and refreshingly uncliched, the acting is absolutely superb. The show is now a bit dated and when it aired it was topical, but almost 95% of it is still valid and relevant. Performances by Peter Krause, Lauren Ambrose and Michael C. Hall will stun you and affect you for a long time after you stop watching. I highly recommend this drama. This was one of HBO's very best efforts ever. – Christin Keck
Watch here ($1.99/episode if you don't have a Prime subscription).
17. Hannibal— A gorgeous show about murder and food, and a prequel of sorts of to The Silence of the Lambs. If you thought Anthony Hopkins was the only person who could play Hannibal Lechter convincingly, Mads Mikkelsen will change your mind.
This show is so serious, it's worth it to check out some of the bloopers online.
Seasons: 3
Favorable review: If you know the subject matter of Hannibal then you may find it odd that I use the word "beautiful" to describe the series, but the acting, scripts, production value are both beautiful and macabre. Well drawn characters, many based on the novels, are fully fleshed out by the excellent writers and cast. The production value is superb in its skewed artistic beauty and the Grand Guignol darkness with Hannibal pulling the strings the puppet master. The subject matter delves into the very darkness of the human psyche at a very adult level and does not cater to those who prefer the Penny Dreadful (please note, I love the Penny Dreadful series but here am referring to the horror genre in films and TV that are continually sinking to pure sensationalism without thought of script, character development, or the intelligence of those who like horror). For those who are fans of the novels and are tired of the slice and dice/slasher depths to which most horror film/TV productions have sunk, I highly recommend Hannibal. – Harriet J.
Watch here (only available for Prime members).
16. Veep — A hysterical portrayal of the behind-the-scenes world of American politics starring Julia Louis-Dreyfus as Vice President Selina Meyer. Although it sometimes feels uncomfortably real, this one is not to be missed.
Goddess Julia Louis-Dreyfus has won six Emmys for her portrayal of Selina Meyer.
Seasons: 6 (ongoing)
Favorable review: Although this is a comedy, it feels real…like everything you are watching, no matter how absurd, is something that could actually happen. It is that believability that makes it so funny. I think we are all frustrated with the political process, and how little gets done in Washington. VEEP makes it seem like we are getting a secret, behind-the-scenes look into why it is so dysfunctional. The cast is perfection. Julia Louis-Dreyfus is a natural. Her timing and delivery seem effortless and the rest of the cast just follow her lead. They seem to be having a great time. I know I did while I was watching. – lduch27
Watch here ($2.99/episode if you don't have a Prime subscription).
15. The Night Manager — Based on John le Carre's novel of the same name, this is a thriller about a hotel manager (Tom Hiddleston) who ends up trying to take down an international arms dealer (Hugh Laurie).
Tom Hiddleston's forearms should have gotten their own trailer on set.
Seasons: 1
Favorable review: Outstanding! Extremely crisp storyline and characterization, all aspects both strong and nuanced. Rare to see such pronounced characterization of good and bad guys without losing dimensionality. Casting is clearly key – Hugh Laurie more than most can bring diabolical wit and charm to stark, cynical amorality, Tom Hiddleston and Elizabeth Debicki embody dazzling injured grace in their roles and mutual spark, and I especially liked the earnest righteous diligence of the Oliva Coleman's spy handler character, Angela Burr. Seamless and deep production, a surprising step above many good international thrillers, and clearly a high-caliber foundational story (LeCarre), packed with adventure, twists, and tension, seal the deal – just outstanding. – L. Manheimer
Watch here ($2.99/episode if you don't have a Prime subscription).