There are plenty of ways to break up with someone, and the choice is usually dictated by the length of the relationship being terminated. In person is the obvious choice for someone you've been seeing for quite some time, but a breakup note, email, or even text might be more appropriate for shorter flings. If you're doing the deed in person you have to consider the venue—public or private?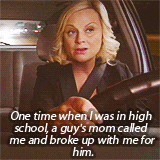 While gym bathroom hookups might be a fixture of gay culture, gym bathroom breakups aren't nearly as common. That's just the first reason a tweet by a Washington, D.C. gym-goer raised eyebrows over the weekend. The note someone found in a gym bathroom parting ways with a man named "Justin" was saucy and it also included the return of a VERY PERSONAL object.
Twitter user Sean Keady (@sean_keady) tweeted a photo of a discovery he made in a rooftop bathroom of Vida Fitness, a gym with multiple locations in Washington, D.C. It was a sassy breakup note addressed to a man named Justin along with a "gift."
Justin I'm sorry there's some bad news waiting for you in the rooftop bathroom of Vida Fitness pic.twitter.com/VwhAkCyh64

— Sean Keady (@sean_keady) July 6, 2019
Evidently, the author of the breakup note is no fan of Justin's refusal to commit and let him know by returning his dong ring.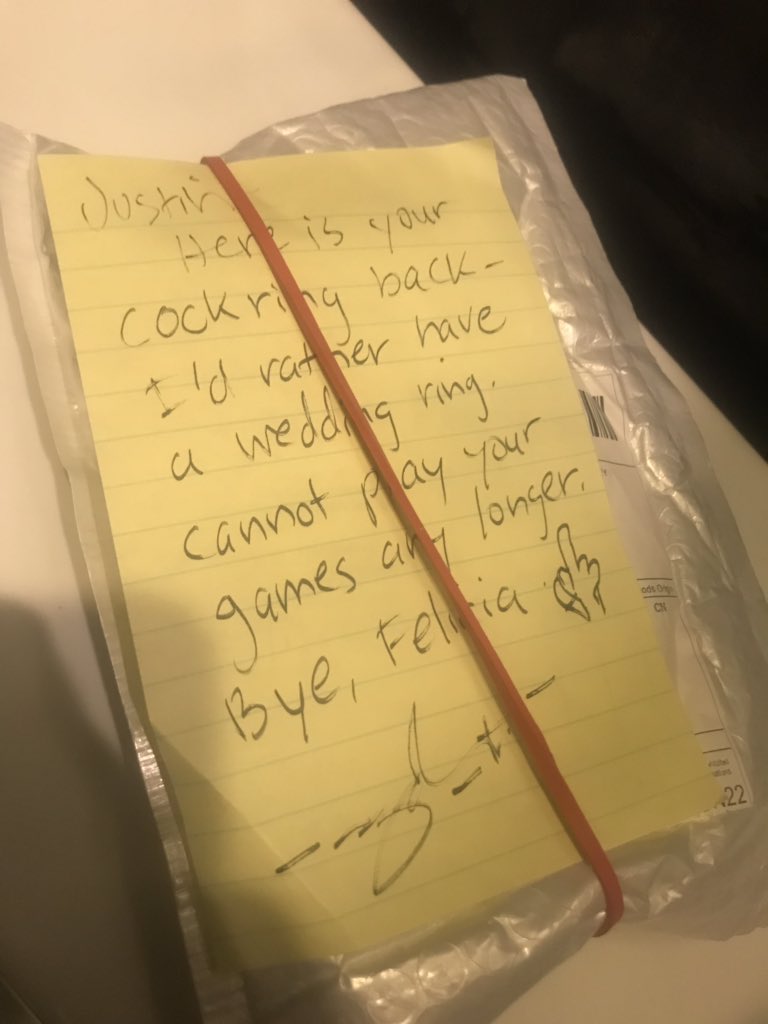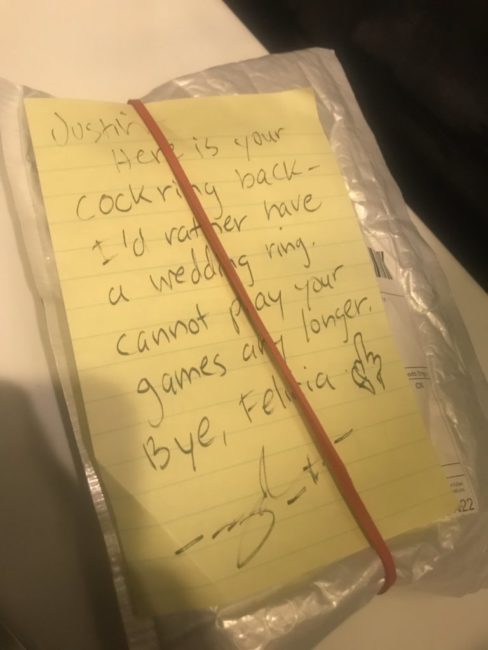 The note reads:
"Justin, here is your cock ring back—I'd rather have a wedding ring. Cannot play your games any longer. Bye, Felicia." The note closes with a drawing of a middle finger and, while the signature is illegible, something tells me Justin will know who it's from (at least I hope he will).
The combination of: 1) returning a sex toy 2) in a GYM BATHROOM with 3) a "Bye Felicia" breakup note left Twitter DECEASED:
this is my gym I- https://t.co/R6TPptuldz

— renata klein (@macey_kusgraves) July 8, 2019
Bury me in the fucking ground cause I'm dead https://t.co/0G0ZWSnpfh

— John Fram (@johnsfram) July 7, 2019
Omg ?????

— Cory Holtshouser (@holtsho1) July 8, 2019
I AM SHOOK. https://t.co/kEi2VJ9Wp1

— The Eric Mathew ?️‍? (@theericmathew) July 8, 2019
As a former employee of this establishment I cannot begin to express the joy this brings me https://t.co/T4LkknSOKF

— mind body & hole (@p00fter) July 8, 2019
Gay culture is: https://t.co/v3AWYK59L3

— Lana Del Gay ?️‍?? (@McClellandShane) July 8, 2019
Poor Justin. Tough way to find out "put a ring on it" doesn't mean what you thought it did!

— semironic (@semironic) July 7, 2019
Even drew a middle finger ?

— Kenneth Logan (@xtrmfisher) July 8, 2019
There's been no follow-up as to whether or not the note made it to its intended recipient, but if you're Justin or you wrote the note, please let us know. We're dying to know the story behind this messy split.