During the height of voting season, tension between political parties is at an all-time high. This year's midterms were no exception as Democrats and Republicans fought to retain majority control over the House. Coverage of the election was broadcasted around the clock and even featured the election party of Republican candidate Den Crenshaw. Video footage of the party unexpectedly revealed a seemingly hostile conversation between one male and two female attendees that caused the latter to storm off in anger. Without audio of the conversation, Twitter is going crazy trying to figure out what went down.
Video footage of a Republican election party caught two mystery women getting seemingly repulsed by an encounter with one male attendee.
TWITTER please find this girl I have to know what that guy said to her pic.twitter.com/CopENdncqx

— Gina (@gina_lolz) November 7, 2018
Twitter user @gina_lolz reposted the moment on her feed in hopes that someone would be able to identify these women and determine what was said.
The woman on the left can be seen immediately bolting after she hears (insert awful comment here).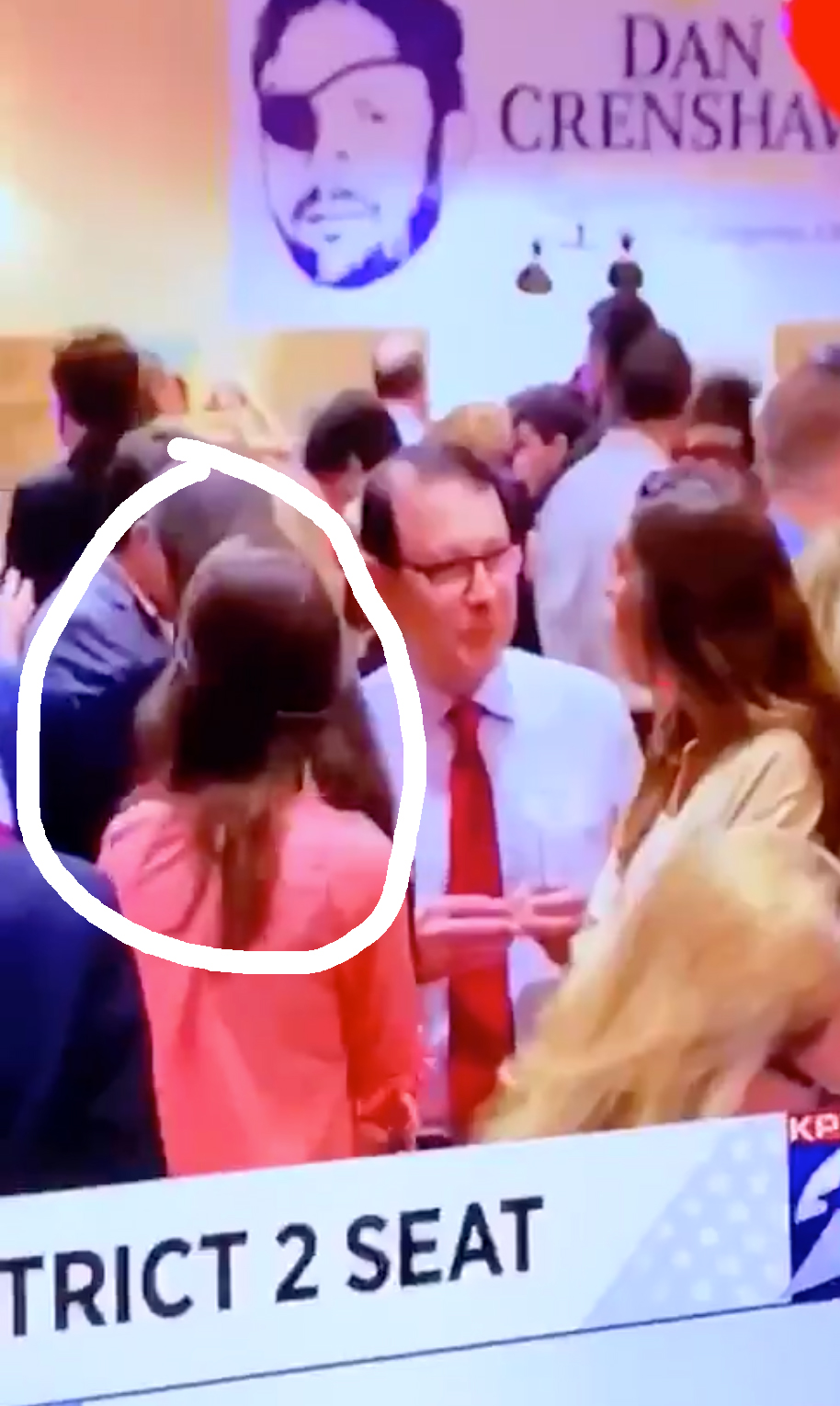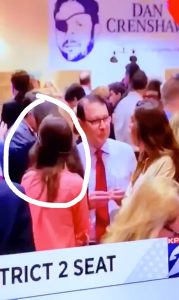 She's not even trying to deal with it.
The woman on the right is clearly taken aback with disbelief—her face says it all.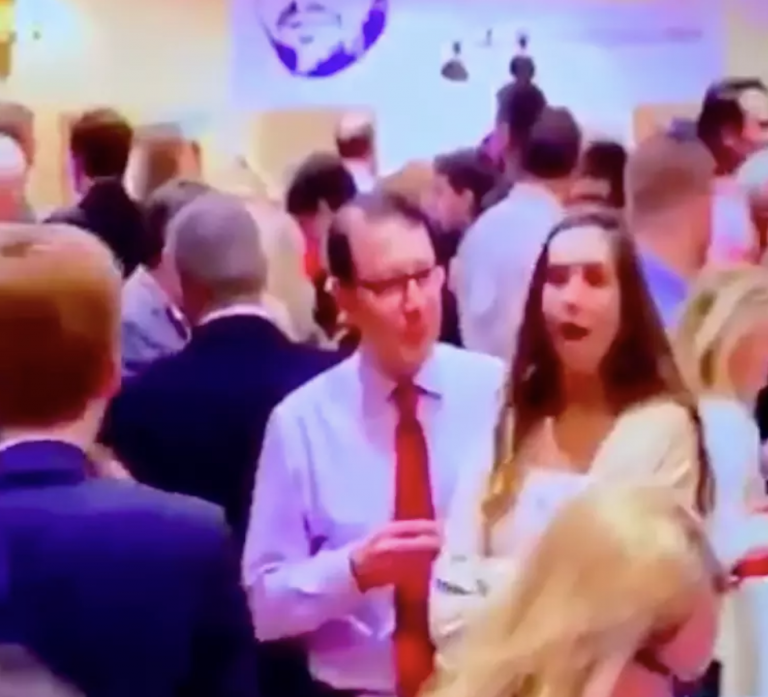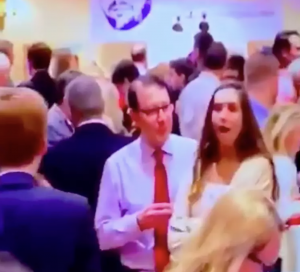 Oh no he didn't!
Then she throws her hand up with a level of sass that every girl is familiar with.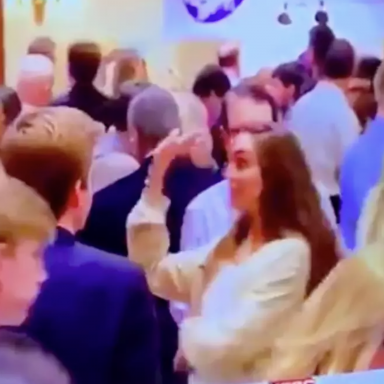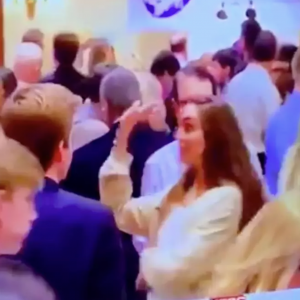 This is bad, very bad.
Needless to say, people are dying to know what happened.
I'm dying to know!!!! https://t.co/zBrSN0BWjL

— Kana Wibbenmeyer (@kana_mw) November 7, 2018
Lots of life depend on this https://t.co/dwPrZuDr7Y

— Carlos (@cid_carlos) November 7, 2018
Of course, Twitter has its theories.
Obviously he told her Die Hard isn't a Christmas movie. Trust me, people in Spring, TX don't take kindly to such idiocy https://t.co/0mzX6EEam7

— Phil B (@thephilipbrown) November 7, 2018
Some better than others…
"Hey how ya doing lil momma let me whisper in ya ear
Tell ya something that ya might like to hear" https://t.co/fcdT4OeYnQ

— Ant (@AobHuncho) November 7, 2018
"When the inventor of the USB stick dies they'll gently lower the coffin, then pull it back up, turn it the other way, then lower it again." https://t.co/zRAL1kUTDA

— katie (@pipterino) November 7, 2018
"Rage comics will return as the gold standard of memes." https://t.co/lxGJiOPOdl

— Eric Harris (@MeBeEric) November 7, 2018
— JC (@AmazeNwally) November 7, 2018
And people are finding the sentiment all too relatable.
When McDonald's tells me the McFlurry machine is broken. https://t.co/ZX1WUSsPGd

— Kevin "Gobble Gobble" Flinn ? (@kflinn182) November 7, 2018
Me everytime a guy says "can I add you on snap?" https://t.co/dqqm6XeYbU

— Lanie (@laniebaniee) November 7, 2018
How about NOOOOO.
There's even been a request for lip readers to come forward.
TWITTER FIND A LIP READER ASAP https://t.co/i65NZe4hD1

— Dave Welch (@Dave_Welch) November 7, 2018
Seriously, though.
While we may need a detective to figure out what the a-hole in question said, there's no translation necessary for this woman's reaction.
idk what he said but she clearly said " thank u, next " https://t.co/CYCtDqEfqe

— rip lil lizard lady?⚰️ (@RESURRECTI0NIST) November 7, 2018
***UPDATE: As it turns out, the woman recently tweeted that the man in the video was her father.
It's just my dad… chill https://t.co/7l21HjvofH

— Ellie Delgado (@ellieedelgadoo) November 7, 2018
Which still leaves us wondering what caused such a strong reaction.
— Silent Killer (@CoreyValeary) November 7, 2018
Curiouser and curiouser…