It's no secret that life is full of little annoyances that can add up to one overwhelmingly unnecessary headache. From messy unorganized drawers that make it impossible to find the one thing you need to burning yourself on the straightener again because there's not enough room in the bathroom, and don't even get me started on that smudged eyeliner that there's no time to fix…UGH. Okay, rant over. Clearly, we are no strangers to irritating everyday dilemmas, but thanks to the overlords of Amazon, we've discovered several incredibly useful products that just make life so much easier. You're welcome.
*Full disclosure: We may receive some portion of the sales made on this list. We're putting all the money into stocks and bonds. And by stocks and bonds, I mean chocolate and ice cream.
22. This genius hot iron pocket that'll hold onto your straightener as it heats up.
Encouraging Review: "I've had this product for about 2 weeks, and I have no regrets about purchasing it. It fits my chi hair straightener with no problem. It has slipped once so far, but otherwise, it's been secure. I am planning to buy one for my curling iron and a larger one for my hair dryer (this size would probably not accommodate a hair dryer particularly not a Dyson). Overall, great tool." – Jennifer Arroyo
Get it on Amazon for $14.19 (29% off) 
21. A brush and pan set that will snag every last crumb.
Encouraging Review: "My family is raving about how well it works and how easy it is to use. It is rather lightweight but feels sturdy. It came with everything needed to hang it on the wall in easy reach for use. Excellent broom and dustpan combo." – Robert55
Get it on Amazon for $39.95
20. A nifty drawer organizer that will save you time and space in the kitchen.
Encouraging Review: "I love these drawer organizers. That maintain the depth of your drawer because they are so thin and are very easy to customize." – Anne Russo
Get it on Amazon for $34.95
19. This assortment of different-sized brushes for scrubbing those hard-to-reach places.
Encouraging Review: "These are handy for cleaning hard to reach areas. Easy to detach brushes from the key ring. Like variety of sizes." – Barbara Smith

Get it on Amazon for $8.28
18. A brilliant cosmetic bag that you can easily unfold to see all of your makeup and quickly grab on-the-go.
Encouraging Review: "My second one and I love it for travel, especially, but is wonderful to use all year long." – Barb
Get it on Amazon for $29.76
17. This anti-gravity paint tray that saves your carpet from any spills.
Encouraging Review: "Wife likes to paint the walls etc all the time. Purchased this for her so she didn't have to lug around can or tray. Worked amazing! Almost fell out of my seat when she turned the tray upside down on our carpet floor and not a drop came out. Very comfortable to hold. Does everything claims." – Hawkeye
Get it on Amazon for $18.81 (6% off)
16. An incredibly useful multi-purpose bar tool that every cocktail enthusiast needs.
Encouraging Review: "Bought this as a gift for someone after I saw it in a magazine. Quality was better than expected. We paired it with a bottle of nice vodka, a small drink recipe booklet. Fun gift, as most people won't have seen this 'swiss-army-knife' of the cocktail world:)" – L.S.
Get it on Amazon for $29.50
15. This helpful connected kitchen scale for measuring out just the right amount of ingredients.
Encouraging Review: "This scale is unique and fantastic. Use it for drinks, food, and anything else you need precisely measured. It makes cooking and especially baking easy. Get your kids involved, it's a great teaching tool. Enjoy!" – Amazon Customer
Get it on Amazon for $24.98 (69%) 
14. A baby bottle holder that will free up mom's hands for other activities.
Encouraging Review: "AMAZING! Despite all the negative reviews about this thing not lining up I ordered it anyways. Thank goodness I did because I couldn't get crap done without my hands. This thing works awesome!" – Kim Check
Get it on Amazon for $44.68
13. This water bottle with a built in bowl your pup can easily drink from.
Encouraging Review: "My dog took to this immediately. It was very easy for him to drink out of the top 'bowl.' The only thing that could make it better would be a way to totally close it so that it can't squeeze out water in transit." – TSK
Get it on Amazon for $14.99
12. A self-leveling measuring spoon set of 4 that is as fun as it is useful.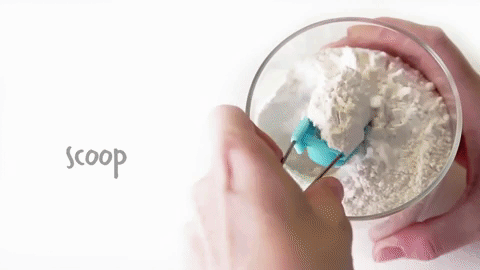 Encouraging Review: "So easy to use and get the exact measurement with the built on self leveler." – GSUgal88
Get it on Amazon for $14.95
11. This pack of clear view highlighters that are perfect for not over-marking your next study guide.
Encouraging Review:
Get it on Amazon for $3.97 (46% off)