The Internet is a place where the moment you post something publicly, you're vulnerable of having it screenshot and shared with the entire world. Maybe you wanted to say something to a loved one that was super-secretive and sexual, but you accidentally put it publicly.
Well, if you're a celebrity, you should figure out how to use the 'Direct Message' feature on social media, because we caught plenty of celebrities red-handed this year being extra thirsty on the net. I mean, super perverted and raunchy. Not that we're hating, but, it's hella entertaining.
1. Michael B. Jordan thirsting over Lupita Nyongo on Twitter.
The two starred in the hit film Black Panther together, but, there were rumors circling that they were also dating/having a mini-fling. No one was 100% sure, and when this tweet came out, people were shook. Turns out, it had to do with a "push-up" contest they were having and not sex. Sad.
The way imma give this nikka anniversary pussy i might need to pop 2 plan Bs

— iamcardib (@iamcardib) September 21, 2018
Now, we know Cardi B is open and candid about her love life, but when she got pretty raunchy on Twitter about how good she was going to give it to Offset for their anniversary, everyone was left with their jaws on the floor. A true queen.
3. 21 Savage saying Amber Rose at 14-years-old looked "hot and ready."
Rapper 21 Savage and Amber Rose were dating for a short period of time. And, when they were, he wasn't afraid to thirst in public over photos on Instagram—like calling her throwback photo "hot and ready like a lil cesars pizza."
Katy Perry and Orlando Bloom have been dating on-again, off-again for years. But, when he posted a movie poster promoting a project, Katy decided to be cheeky and ask for a "season pass for that ass." She then said she meant to send it privately, but we all know it's not true.
An Instagram account made this hilarious meme of Paltrow and shared it online. Once her friend got ahold of it, he commented and tagged her—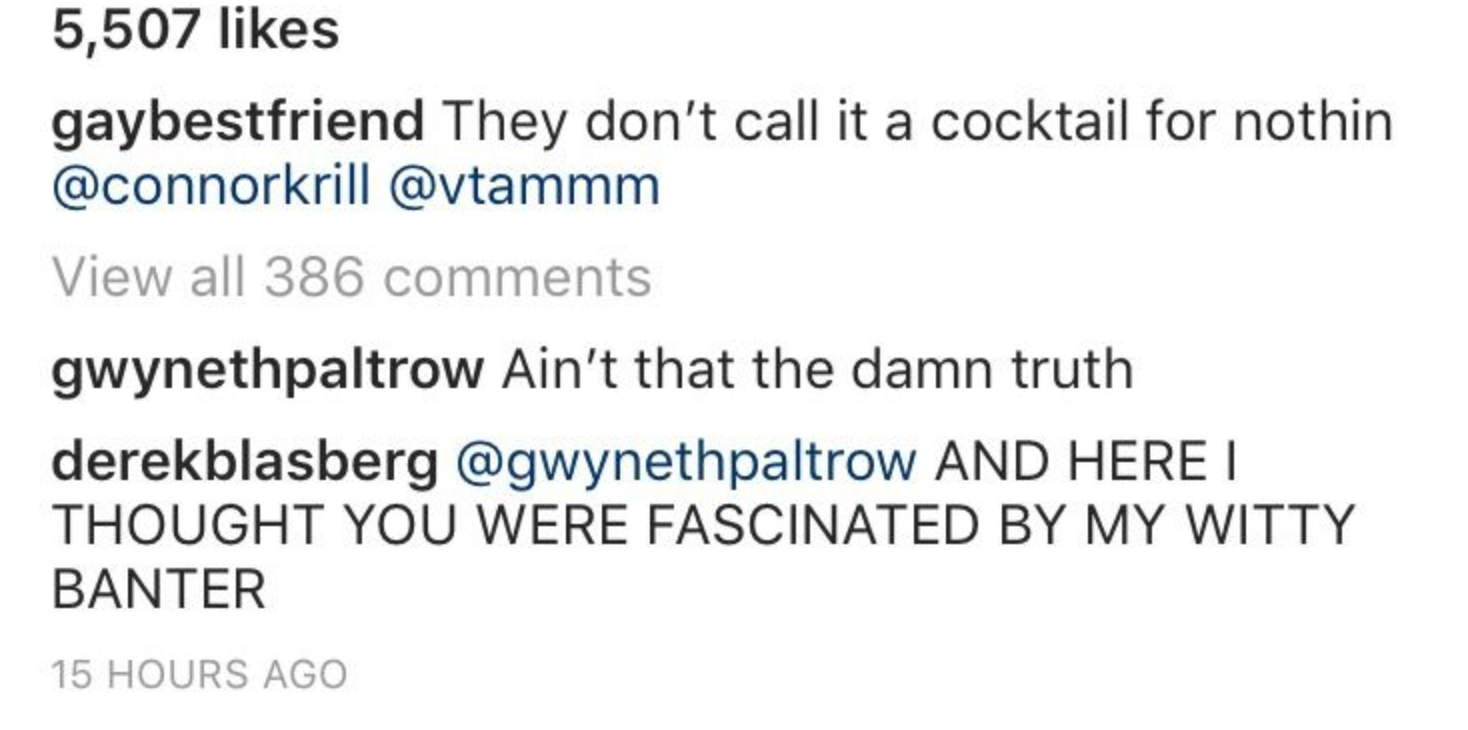 To which, she totally said "ain't that the truth," which means Paltrow was thinking about some c*ck the entire time. We see you, sis.
6. Donald Trump Jr. got caught following a pretty intense porn page on Twitter.
DON JR RED ALERT pic.twitter.com/MYXJgl3OY2

— Ashley Feinberg (@ashleyfeinberg) January 11, 2018
Donald Trump Jr. has been known to do some pretty stupid things in the media spotlight, especially since his father was elected President of the United States. But, being the son of POTUS, you may not want to be following an intense porn account on Twitter, where everyone can see it.
7. Pink accidentally got drunk and emailed Eminem a "love letter."
Pink revealed in an interview that while writing her 7th studio album, Beautiful Trauma, she wrote a rap on one of the songs and wanted Eminem to hop on the album as a feature. She then said she got wine-drunk and emailed him a pretty telling love-letter saying: 
I reached out to him in this case. I love him. I've always loved him. I think he's a lyrical genius. And I just wrote him a love letter… I wrote him an email, and I said, "I love you. I've always loved you. I've loved you since you gave me your autograph at the 2001 MTV Music Video Awards…" I just wrote this love letter, and he just wrote back, "OK."
Ouch.
Ariana Grande and Pete Davidson may have had a short run, but it was a hella eventful one for sure. Between their PDA and over-sharing on social media, the two left everyone placing bets on when they'd break up. But, prior to her album dropping and prior to Thank U, Next, Grande let everyone know about Pete's dong.
Grande has posted a clip of a song from her album…
When fans asked Grande to share what the song was about, she told them it was about Pete (which, sucks now that they're over and she'll have to sing the song on tour forever).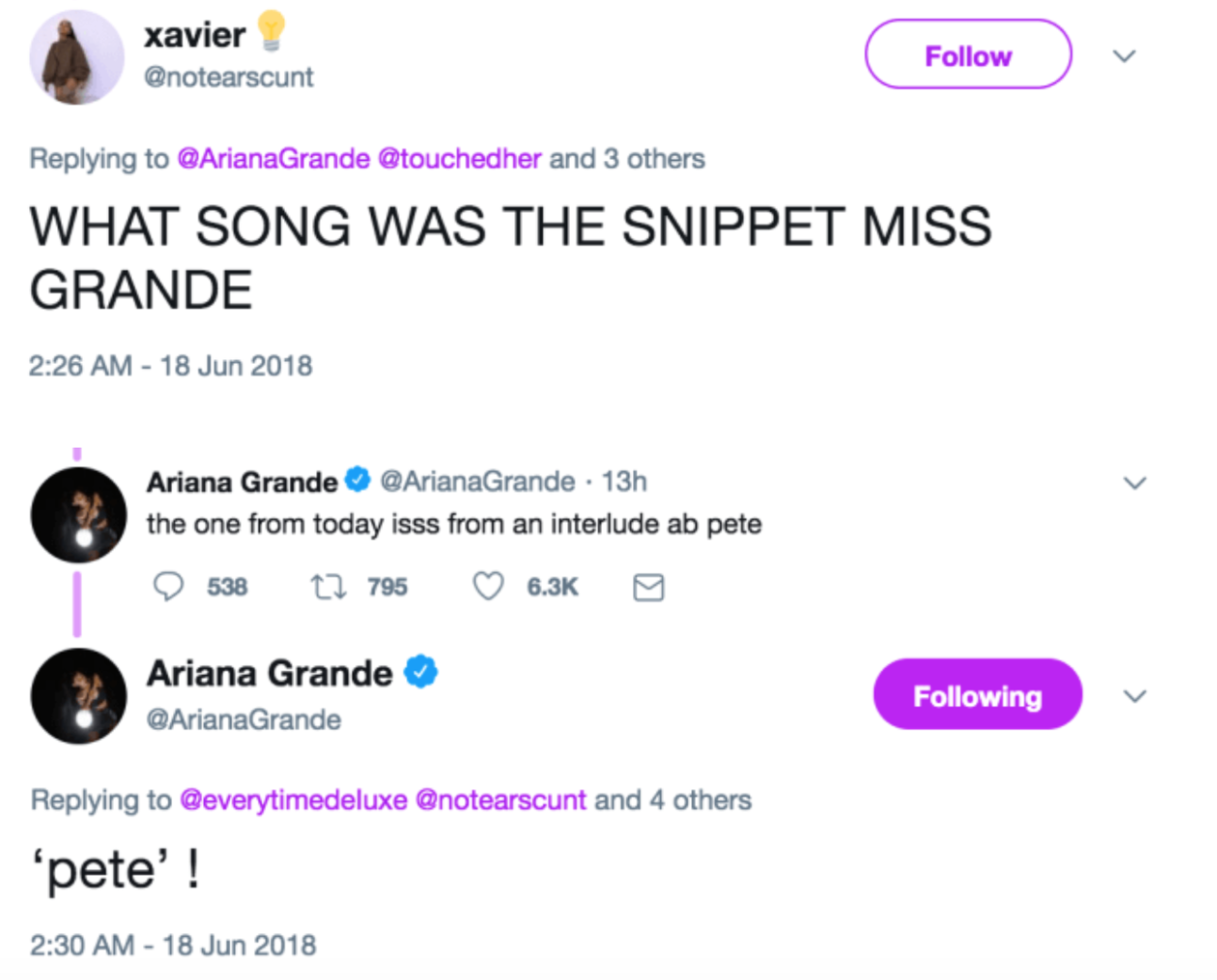 And, when they asked how long 'Pete' was…she said: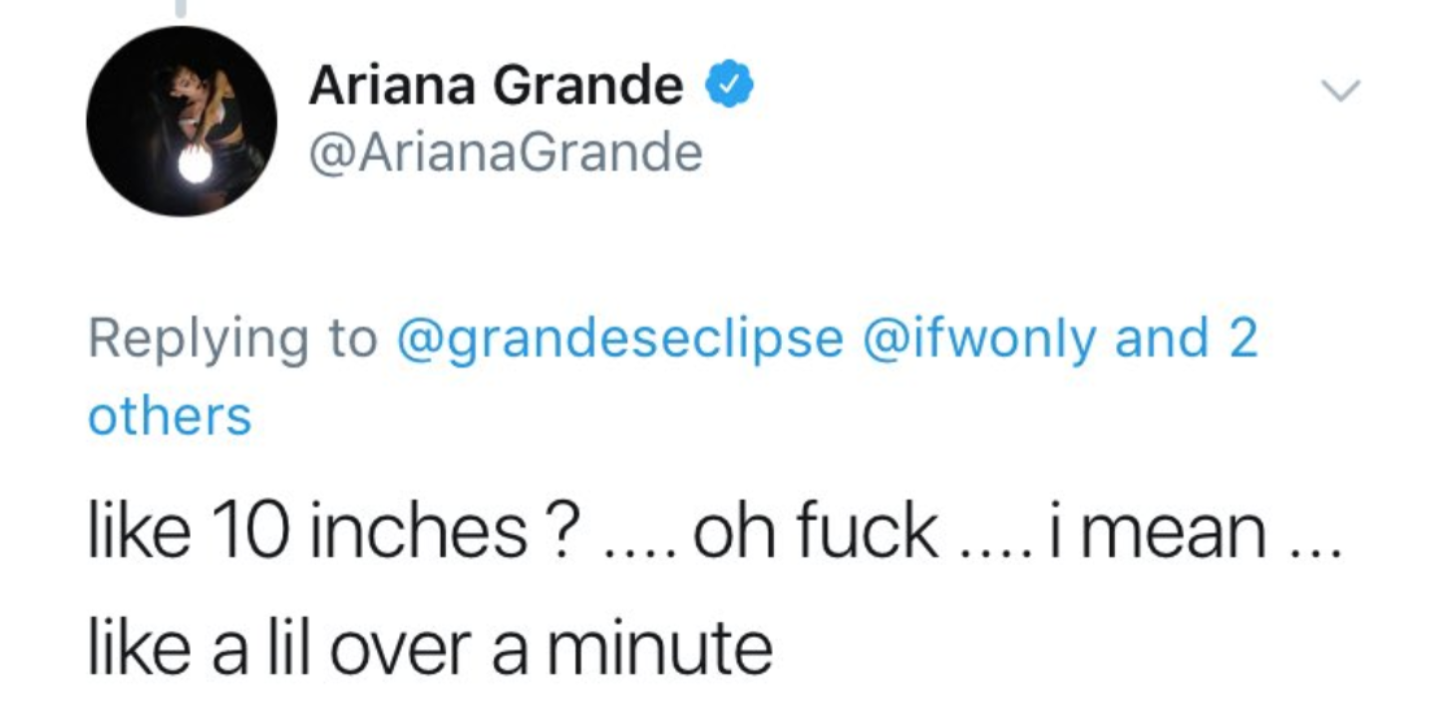 Well, damn girl. Sucks that you lost all that. Just kidding, you're better off (get it?!?)
After Barstool shared this photo on Instagram, Super Bowl quarterback Tom Brady got involved in the commentary.
Tom Brady commented on the post saying:

Lucky Giselle, am I right?
10. Jessica Biel claimed Justin Timberlake, too, has a dig bick.
The adorable couple, who have been together for years, had some sweet, sexual banter on Instagram when Timberlake posted about his book.
And, Biel responded rather playfully, insinuating that she's in awe of his big…brain.

Right, brain.
While accepting an award at the E! People's Choice Award, the female rapper thanked a dress designer, Donatella Versace "for custom making this outfit for her" and then said…
Nicki Minaj and Michael B. Jordan need to happen #PCAs pic.twitter.com/LqQIZbFodk

— Nicole Perez (@nicole_perez1) November 12, 2018
Get it, sis.
While promoting their film together, A Simple Favor, Lively and Kendrick got pretty damn close.
So, Lively took their newfound love public.

And, Kendrick was down.

In her new song, Cardi B had mentioned she wanted a "threesome" with RiRi and Chrissy Teigen."
"I need @ChrissyTeigen / Know a bad bitch when I see one / Tell RiRi I need a threesome"

—@iamcardib on "She Bad" #InvasionOfPrivacy https://t.co/josPScRu1d pic.twitter.com/NcGwMOchZm

— Rap-Up (@RapUp) April 6, 2018
So, Chrissy Teigen was shocked and said: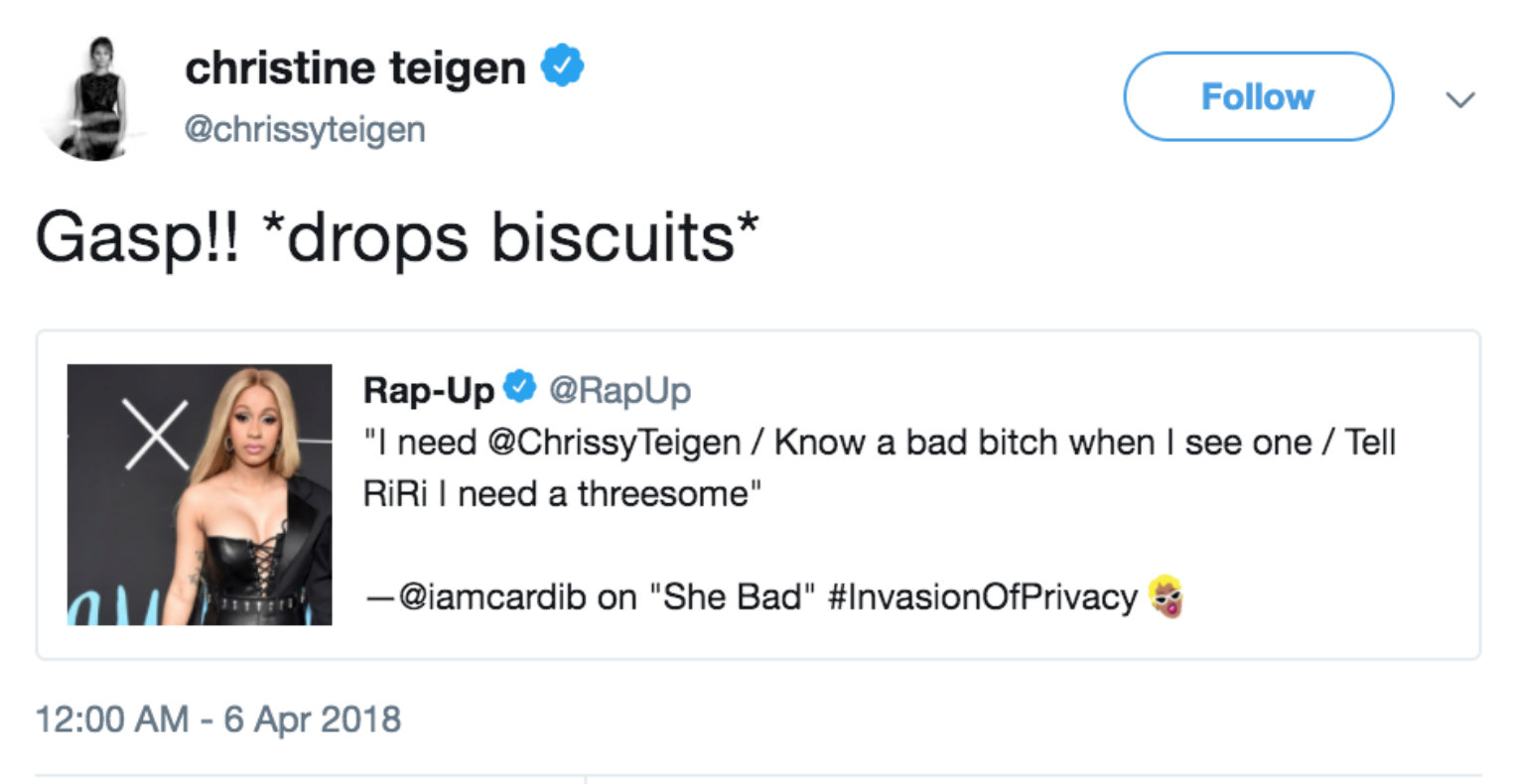 I mean—who wouldn't want a threesome with two of the baddest women in the game?!?
While commenting on a rather funny and inappropriate cross-stitch, Bell revealed that…
And, she wasn't afraid to tell the world.
Classic.
15. Kate Beckinsale said David Spade has a "big dick."
After posting a photo in a dressing room, Beckinsale and Spade had a little convo on Instagram in which…
Beckinsale said they totally look alike, except for Spade's bigger dick (and muttonchops).
16. Jonathan Tucker got hella thirsty with Mark Consuelos.
After wife Kelly Ripa posted a photo of Conseulos playing Hiram Lodge on Riverdale, actor Jonathan Tucker posted a hilariously thirsty comment on her Instagram.
17. Jason Biggs got hilariously perverted on his wife's Instagram.
Biggs' wife, Jenny Mollen, posted a blurry photo of how fast she typed, to which Biggs said it'd be nice if her hands worked faster "while doing other things."
18. Kanye West got a lifetime free membership from Pornhub for giving them a shout out on TV.
Kanye West was in the news a lot this year for a lot of bullsh*t, but hilariously enough, he still has time for porn. While on Jimmy Kimmel, the rapper said he loves to look at Pornhub and that "Blacked" was his favorite category on the site (sorry, Kim).
So, in response…
We want to extend our appreciation to a Mr. @kanyewest for his loyalty to us over the years. A gift in the form of a free lifetime premium membership. Here's to you, Ye. https://t.co/1uarAl53xp cc: @jimmykimmel

— Pornhub ARIA (@Pornhub) August 10, 2018
He deadass got a while free membership—for a lifetime.